The 2013 Toyota GT86 CS-V3 Racecar is a product of the Japanese company's operations in the motor racing world, Toyota Manufacturing GmbH, or TMG. This arm of the company was set up to maintain the cars for Toyota's Formula 1 teams.
The car is designed for road and race use, and is aimed at those drivers who want a vehicle that has practical applications as well as providing thrills on the racetrack occasionally. The GT86 CS-V3 Racecar was specifically built to compete in the German VLN series, which is based in the Nurburgring. It has proved it has the power and agility needed to win in such race events. Proven by victory in the Nurburgring 24-hour race.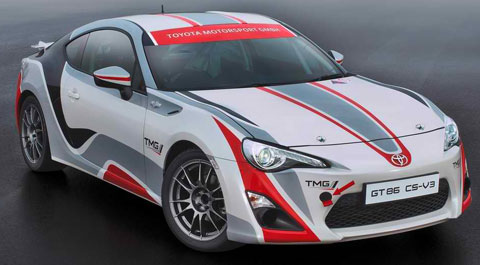 Specifications
General Info

| | |
| --- | --- |
| Vehicle Type: Racecar | Base Price: NA |
Dimensions

| | |
| --- | --- |
| Length: 166.9 in. (424 cm) | Wheel Base: 101.2 in. (257 cm) |
| Height: 50.6 in. (128.5 cm) | Width: 69.9 in. (177.5 cm) |
Performance

| | |
| --- | --- |
| Engine: 4 Cylinder Boxer | Displacement: 2.0 Liter |
| Horsepower: 197 HP | Max RPM: 7000 rpm |
| Torque: 152 lb-ft | Transmission: 6-Speed Manual |
| 0-60 mph: 7.0 seconds | Maximum Speed: 140 mph (225 km/h) |
Engine
Its impressive 2.0-liter; CS-V3 engine is capable of delivering up to 197 horsepower at 7000 rpm. The engine is a modified Subaru Boxer class engine, with Toyota's proprietary D-45 injection system added to boost performance.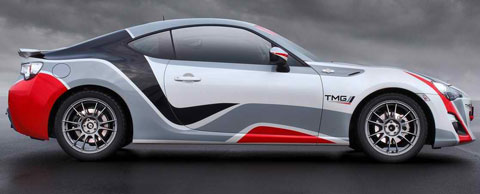 Added Appeal
Toyota has made this car an entry-level model for drivers who want to experience the thrill of high-speed racing. That means stripping out many of the features found in stock vehicles, producing one built for professional racing. The aim is to make it easy to maintain the Toyota GT86 CS-V3 Racecar without in-depth knowledge of racing technology.
The second thing that is likely to appear attractive for non-professionals is the low price for a car of this type. Its basic price is 38,500 Euros (just under $50,000) This makes the car accessible to many enthusiasts without breaking the bank.
Exterior
The car looks sleek and streamlined, and is obviously a sports car. There is nothing particularly unique or impressive about the car's physical appearance. It is not a car that will leave a lasting visual impression on people.
In fact, if it were not for the racecar style paintwork, this car looks very much like a standard coupe.