The 2013 Toyota FV2 Concept Car is Toyota's car of the future which captures its "Fun to Drive" philosophy. The car is designed to provide a better driving experience and develop the relationship between the driver and their vehicle by connecting with the driver physically and emotionally.
The Toyota FV2 is unlike any other contemporary car, coming with hands-free steering and the ability to read the driver's emotions.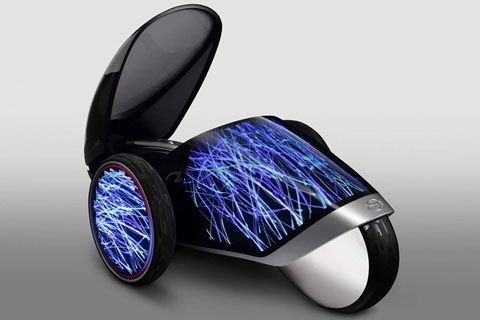 Specifications
General Info

| | |
| --- | --- |
| Vehicle Type: Concept | Base Price: NA |
Dimensions

| | |
| --- | --- |
| Length: 118.1 in. (300 cm) | Wheel Base: 92.9 in. (236 cm) |
| Height: 70.1 in.* (178 cm) | Width: 63 in. (160 cm) |
| Curb Weight: NA | Maximum Seating: 1 person |
* Driving position
Exterior
The FV2 is unique looking. Its four wheels are diagonally aligned, a wheel at the front and rear, and one on each side, with a cockpit for the driver.
The car is driven in a sitting position with the canopy closed or in a standing position with the transparent canopy open and acting as a full-height windshield.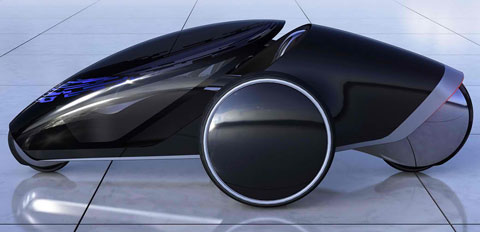 Steering
The car does not have a steering wheel. Instead, the car is steered by the driver by shifting his body side to side, forward and backwards to move the car left, right, forward and back.
Shifts in the driver's weight are monitored by the FV2 to perform actions.
Driving
The windshield has an extensive augmented reality (AR) display with a sophisticated navigation and mapping system that provides information such as GPS, speed and distance.
The car also comes with advanced transport system technology allowing it to detect other vehicles and traffic, which provides the driver with safety information such as warnings about other vehicles in blind spots.
Emotional
The FV2 can also read the driver's moods by using voice and facial recognition technology, and adjusts itself accordingly. The car can change its exterior display color to reflect the driver's mood, facilitating intimate bonding between the driver and vehicle.
It also connects with the driver by using driving history and driving skill information to give destination suggestions to assist the driver. Toyota has released a Smartphone app that allows users to get a taste of the futuristic driving experience the FV2 offers.