It's not easy being green or even blue with green wheels as is the 2013 Renault Twin-Z Concept car when it was unveiled. The green wheels may be a bit much, but it is intended to emphasize the eco-friendly nature of this compact all electric vehicle.
It is obviously aimed at the big city markets where it will carry you from place to place up to 100 miles between charges.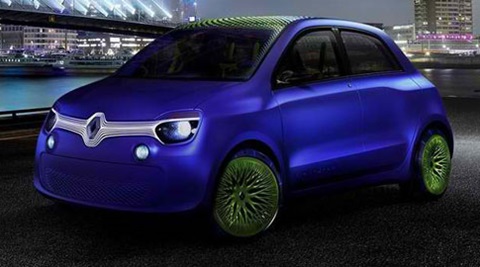 Engine & Performance
The 2013 Twin-Z Concept runs on a rear mounted electric motor that delivers 68 horsepower and 166 lb ft. of torque. Its power source are 4, 96 volt lithium-ion battery packs that fit nicely under the floor.
Surprisingly, the Twin-Z Concept can reach a top speed of 81 mph. It is a rear wheel drive vehicle. The engine is paired with a direct drive transmission with a reducer gear and forward/reverse inverter.
Exterior
The Renault Twin-Z Concept let's take a look at its overall dimensions. It is slightly less than 12 feet in length. The width measures close to 5.5 feet. It stands less than 5 feet tall with a wheelbase of 98 inches (just over 8′).
A vortex effect is created by the new front grille and rear bumper. The headlamps are of the LED variety and when you look at the running lights you'll have the eerie impression of a human eye staring back. However, the "piece de resistance" has to be the LED display on the entire roof surface.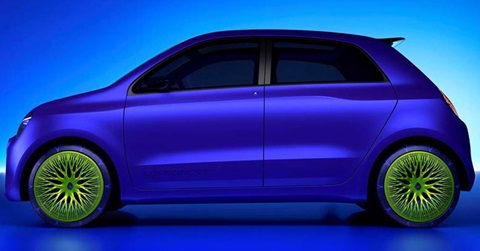 The electronically controlled front and rear doors are multi hinged. They are reminiscent of a modern version of "suicide" doors. Don't bother looking for any outside mirrors as the outdoor views are displayed on internal video. The tail lamp assembly encompasses the large rear window with a light display.
Interior
Dashboards and instrument clusters are also a thing of the past on the Twin-Z Concept. The controls are accessed via a large touch screen display mounted on the center console. It will seat 4 with an extended steering column topped off with a racing style oval steering wheel and 2 rear bucket seats integrated directly into the rear floor.