There are times that Concept cars appear to be simply someone's dream car, with little chance of ever becoming a reality. However, in the case of the 2013 Renault Initiale Paris Concept, this is not expected to be the case.
This vehicle looks like the future of minivans. The French automaker is advertising the Initiale as a replacement for its resident people carrier, Espace. The model looks like a minivan with characteristics of a crossover.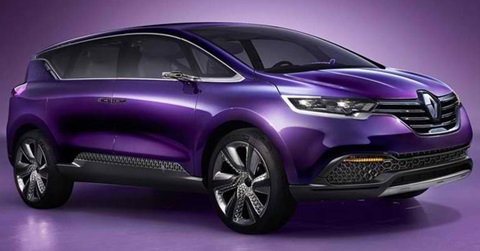 Specifications
General Info

| | |
| --- | --- |
| Vehicle Type: Crossover | Base Price: NA |
Dimensions

| | |
| --- | --- |
| Length: 190.9 in. (484.8 cm) | Maximum Seating: 7 people |
Performance

| | |
| --- | --- |
| Engine: V6 dCi Twin Turbo Diesel | Displacement: 3.0 Liter |
| Horsepower: 140 HP | Max RPM: NA |
| Torque: 295 lb-ft | Transmission: Shift by Wire-EDC |
| 0-60 mph: 10 seconds | Maximum Speed: 120 mph (193 km/h) |
Engine & Performance
The engine offering of the Renault Initiale is a dCi 130 with enhancements to add to its efficiency.
The engine is a 3.0 liter, V6, that produces 140 horsepower and 295 lb ft of torque.
It is expected to accelerate from 0-60 mph in a little under 10 seconds with a top speed of 120 mph.
Exterior
The Renault Initiale Concept features honeycomb air intakes on either side of the lower front bumper, streamlined sides and a low slinging plexi-glass roof. The cars overall length is a little under 191 inches.
The front grille is one of the vehicles most distinguishing characteristics. The LED headlights grab your attention as they wrap around the side, daytime running lights have been included as well.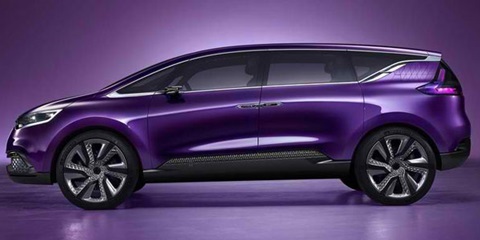 Grooved body panels on the side lead to an understated rear view which simply blends well with the rest the contour of the Initiale.
If you look closely you will notice diamond shaped accents on several areas of the Renault Initiale's exterior including the front grille and wheels.
There is also an actual map of Paris on the roof, although the likelihood of that remaining on a production model is slim.
Interior
As you enter the Initiale Paris Concept, you find yourself going through rear hinged doors that open via a motorized running board.
After that, you will step onto the high tech aluminum, wood matte flooring. There are 3 rows of seating with armchairs accompanying the first two. The third seat folds flat to accommodate storage.
The dashboard is clean and the center console appears to be floating while containing 2 infotainment and performance screens.
The Initiale Paris Concept also is equipped with an audio system that include 32 speakers made by Bose!