Choice is one important feature of the 2013 Peugeot 107. Offering two finish levels and a variety of colors (including the stylish and exclusive new "Plum") a three-door or five-door chassis, and 1.0i 5-speed manual or 1.0i 5-speed two-tronic manual engine.
This classy little car gives drivers the opportunity to personalize their purchase and drive a sweet little car that fits like a glove with a very attractive and chic interior design!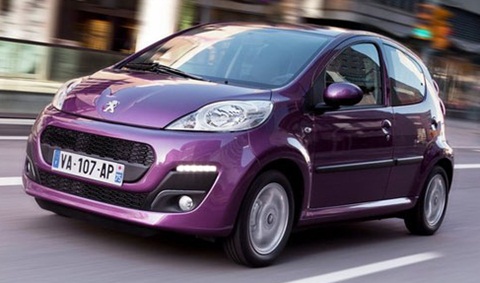 Added Features
Along with its basic features, the Peugeot 107 offers such luxuries as leather trim on the steering wheel, steering wheel paddles on the two-tronic model, and a truly fine audio system with two added speakers and a number of SmartPhone interactive features available!
Additionally, the 2013 107 is a safety standout offering excellent choices in fog-lamps and/or running lamps to improve visibility in every kind of weather.
Efficiency
The all-new Peugeot 107 is a small, agile, ultra-modern, fuel efficient offering that will be popular to a wide variety of drivers. Its stylish good looks are intended to appeal to fashion-conscious female drivers; however, its excellent gas mileage and low CO2 emissions will appeal to a wider consumer base.
The 1.0i 5-speed manual engine measures 99 g/km CO2 emissions, while the 1.0i 5-speed two-tronic manual engine measures at 104 g/km. Designed with freedom, independence and autonomy in mind, the Peugeot 107 is undeniably an attractive car that people will love to drive.
The 107 is an economical car from the showroom floor to the road, offering excellent fuel efficiency at 62 mpg (between 4.3 and 4.5 liters per 100km). Sold in forty-eight countries, the 2013 Peugeot 107 is the product of a great deal of consumer study and response.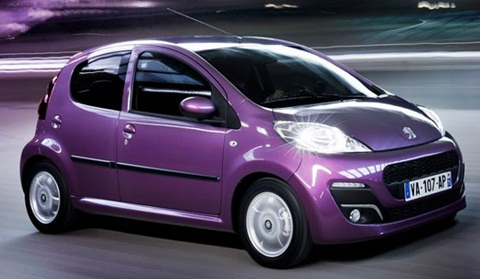 Fun
A true car of the people, this fun, economical little vehicle has been specifically designed, updated and tweaked to meet a variety of consumer expectations and offers a number of special editions featuring customer-specific equipment to fulfill a variety of demands. Among them are affordability, economy, eye-appeal, maneuverability and sheer joy of driving.