While the auto community awaits the arrival of the latest Mini Cooper, MINI has given us a glimpse of something new and what we might expect with the unveiling of the 2013 Mini Vision Concept.
Technical innovations, a new aesthetic appeal and evolutionary design highlight this vehicles feature. The technical aspect is best exhibited in the wide array of interactive gadgets which includes Mini's "Driving Experience Control" switch.
Even the "Glamorous Gold" color of this car is one we have never previously seen on a Mini.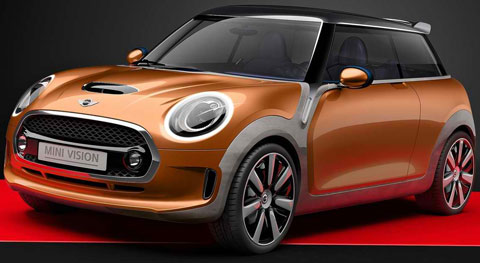 Engine & Performance
Mini has not disclosed much information as to what to expect in the drivetrain. It is believed the Vision Concept will use a conventional 4 cylinder engine as well as offering a family orientated inline 3.
The 4 cylinder version will most likely be a 1.6 liter engine generating 120 horsepower. A turbo could go up to 181 horsepower. All engines could be mated with a manual transmission and be front wheel drive.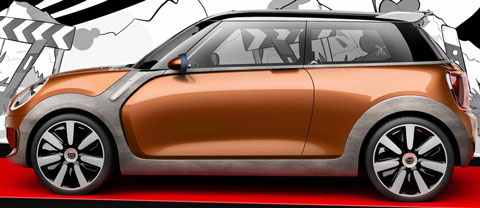 Exterior
The face of the Mini Vision Concept has a familiar feel as they have retained the hexagon shaped grille and elliptic LED headlights. Even with its boxy appearance, the "Vision" is aerodynamic in form with air intakes and outlets in front of each wheel arch.
The ease of air flow continues through the rims and outside mirrors to optimize it for the least resistance. There is also an integrated roof spoiler at the cars rear.
The body is clearly separated at the roof and glass area using chrome strips. The material used to manufacture the body is that of various fibers creating a composite of "organo metal".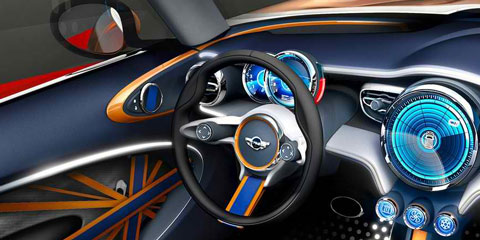 Interior
The interior features vary to go along with the Vision's functionality. The cockpit is open and features a floating center console. Inside the sweeping doors you will find a design reminiscent of the Union Jack flag. The best part of the design is the stripes are functional and can be used to hold your mobile phone or even a bottled water.
There is no shortage of other places to stow those items and more. There are specific areas designated for smart phones as well as storage boxes and cup holders.
Technologically, the new "Driving Experience Control" allows the driver to enter a fully interconnected mode. When fully connected, different shades of color are displayed to set the desired mood in the cabin. The ultimate setting lights the floor as if you are in a disco, with a variety of light, colors and shapes moving at your feet.