Mercedes-Benz AMG is adding a whole new dimension to the performance of electric driven sports cars.
The latest emission-free sports car, the SLS AMG Electric Drive Coupe is an all-wheel drive that features Formula 1 technology, AMG Torque Dynamics, a new front axle design and many other enhancements that make this electrically powered sports car one of the best yet.
The 2013 Mercedes-AMG Electric Drive Coupe is the fastest car of its kind, accelerating from 0 to 60 mph in just 3.9 seconds.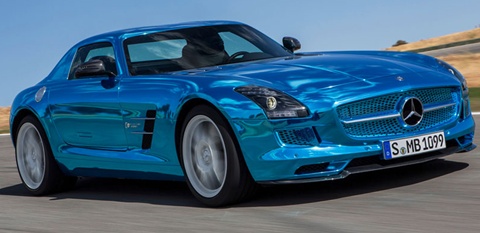 Specifications
General Info

| | |
| --- | --- |
| Vehicle Type: Super Sport Electric Coupe | Est. Market Price: $416,500.00 |
Dimensions

| | |
| --- | --- |
| Length: 182.6 in. (463.8 cm) | Wheelbase: 105.5 in. (267.9 cm) |
| Height: 49.7 in. (126.2 cm) | Width: 76.3 in. (193.8 cm) |
| Luggage Capacity: 6.2 cu ft | Maximum Seating: 2 |
Performance

| | |
| --- | --- |
| Engine: Electric | Displacement: NA |
| Horsepower: 740 HP | Torque: 738 lb-ft |
| 0-60 mph: 3.9 seconds | Top Speed: 155 mph (250 km/h) |
Pioneering Package
If you want a completely electrifying and innovative driving experience, you can't do much better than the pioneering drive package that's in the Mercedes-AMG Electric Drive Coupe. With 4 motors synchronized to produce 552 kW and 1000 Nm maximum torque, 155 mph as the top speed, this 2013 electric drive model is nothing if not agile. The instantaneous torque build-up means that maximum power is effectively available as soon as you start the engine.


Formula 1 Technology
Performance, weight and battery efficiency are three key areas that Mercedes-AMG are excelling in. Advanced technology used in F1 cars has found its way into the new electrically charged SLS AMG Coupe and enables the car's battery to boast a potential of 600 kW load energy. First used in 2009, KERS hybrid technology now features in the Electric Drive Coupe and truly represents the best work of F1 engine experts.
AMG Torque Dynamics & AWD
The Electric Drive Coupe from Mercedes-AMG provide the safest and most exciting way to drive an electrically charged vehicle. With a motor for each wheel, the permanent all-wheel drive guarantees the highest level of freedom when driving.
Each motor can be individually controlled, dubbed the AMG Torque Dynamics system, and allows drivers to distribute forces selectively thus increasing driving safety, handling of the vehicle, ride comfort and enhancing driving dynamics. Regardless of road conditions, the SLS AMG Electric Drive Coupe is set to be an absolute pleasure to drive.