The 2013 Jaguar C-X75 Concept car is a 2 seat, hybrid electric experimental vehicle that, as of this writing, the British automaker has no plans to produce.
That said it still provides a glimpse on what we may expect from Jaguar in the future.
The "C" stands for concept, the "X" for experimental and the 75 represents the 75th anniversary of the company.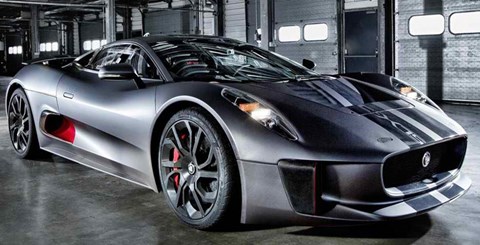 Specifications
General Info

| | |
| --- | --- |
| Vehicle Type: Coupe Hybrid Concept | Base Price: NA |
Performance

| | |
| --- | --- |
| Engine: Inline 4 Turbo-Super Charged | Displacement: 1.6 Liter |
| Horsepower: 502 HP | Combined Horsepower: 850 HP |
| Motor Output: 300 kW | Motor Horsepower: 390 HP |
| Torque: 740 lb-ft* | Transmission: 7-Speed Manual |
| 0-60 mph: 2.9 seconds | Maximum Speed: 200 mph (322 km/h) |
Engine & Performance
The Jaguar C-X75 is powered by a supercharged and turbocharged 1.6 liter 4 cylinder engine utilizing direct and port fed fuel injection, mated with 2 electric motors along with a lithium-ion battery pack.
This combination creates a 4 wheel drive hybrid "super car" capable of generating around 900 horsepower. The powertrain is complimented by a 7-speed automated manual transmission.
The C-X75 accelerates from 0-62 in under 3 seconds with a top speed of 200 mph.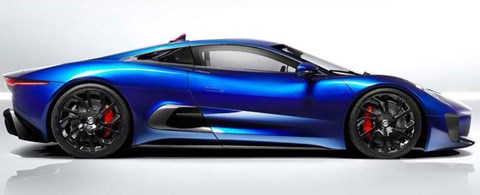 Exterior
The C-X75 Concept is an aerodynamic masterpiece designed for minimal air flow to enhance speed. The flat black kidney shaped grille accentuates the nose with the distinctive "Jag" emblem in its center.
It is reminiscent of the F-type front. The headlamps are mounted on the top of the front fenders barely intruding on the façade. The side profile is dominated by deep air vents and fuller flanks. The rear view, as this car would undoubtedly pass you on the highway, features an oversized rear diffuser and slit-like taillights.
The body is made completely of carbon fiber. Side-view mirrors are melded on the doors which are of the flip up dihedral variety. There is also a rear spoiler pop up airbrake.
Interior
The interior is very basic which is in a race car mode, featuring 2 low mounted racing bucket seats. Instrument read outs and controls are positioned in an accessible manner at the center console.
It is not a vehicle to lounge in, but rather one made to be driven and driven and driven.