Speed never looked good until the 2013 Ford Fusion NASCAR was unveiled in the Charlotte Motor Speedway Media Tour. Ford wanted to make a statement to race cars around the world by making this new car with the right recipe.
This is one of the most anticipated cars that is now part of the Sprint Cup. Ford also wants to bring back the meaning of "stock car" to NASCAR with the new Ford Fusion. Future car racers will be brought once again to a wonderful world of speed and fame by next year.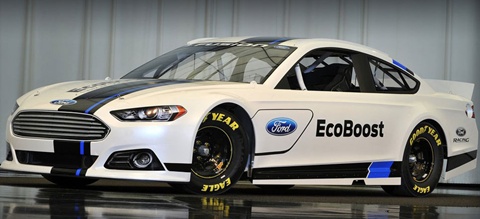 Future in Mind
NASCAR has always been a home for amazing and fast cars that are developed from around the world. Fans and car enthusiasts will surely be in awe once they see the brand new design from Ford. This is going to be a great way to reengage fans of speed and NASCAR to become part of the sport again.
The brand new technology in the Ford Fusion NASCAR will also bring future drivers a whole new experience on the track. This new car is going to be tested whole year round to make sure that it is working perfectly in time for next year's 2013 Daytona 500.
New Design
Car racers are also assured that they will have a new experience when it comes to aerodynamics. Bernie Marcus spent the past year developing the aerodynamic capability of the Fusion NASCAR. Most of the details when it comes to this new and fast car are still under wraps.

People will just have to wait and see how this new car will perform around the track. The company also made sure that the car's design compliments well with its proportion. The brand and design cues are also strategically placed at the side of the Ford Fusion.
To top that, the front end grill is also a distinct look coming only from Ford. There truly is a lot to expect when it comes to the world of speed racing and with the new Ford Fusion it is going to be a blast.
Specifications
General Info

| | |
| --- | --- |
| Vehicle Type: Sedan(BASE) | Base Price: NA |
Performance

| | |
| --- | --- |
| Engine: I-4 Duratec® | Displacement: 2.5 Liter |
| Horsepower: 175 HP | Max RPM: 6000 RPM |
| Torque: 172 lb-ft @ 4500 rpm | Transmission: 6-Speed Selectshift |