The 2014 Ford Fiesta ST is one of the company's fastest small cars ever, and it is designed with dynamics and performance in mind.
Who said that buying a practical car meant sacrificing speed and driving power?
Ford is confident that this is the best driving Fiesta yet, take a closer look whether it's true.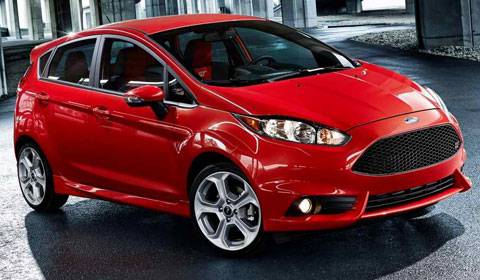 Specifications
General Info

| | |
| --- | --- |
| Vehicle Type: Compact | Base Price: $14,993.00 |
| Fuel Tank Capacity: NA | MPG: 34 Combined |
Performance

| | |
| --- | --- |
| Engine: 4 Cylinder EcoBoost® | Displacement: 1.6 Liter cc |
| Horsepower: 197 HP | Max RPM: NA |
| Torque: 214 lb-ft @ 3500 rpm | Transmission: 6-Speed Manual |
Engine
Team RS, which is Ford's group in Europe, has given this Fiesta a 1.6 liter EcoBoost engine that runs on petrol. This will ensure that the car is inexpensive to run, while allowing drivers to go from 0 to 60 in as little as 6.9 seconds, reaching a maximum speed of 136 mph.
Navigating tricky inclines and heavy traffic is easy with 214 lb ft of torque. The engine is light, and this can be appreciated after taking it for a drive, which greatly enhances how the car feels on the road. This new one is improved since the last model, there will be a turbocharger with direct, high-pressured fuel-injectors available.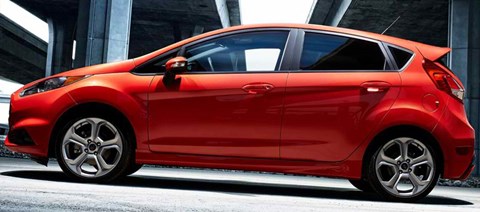 Improved Efficiency
The new Ford Fiesta is fast and able to take on difficult roads, but it was also designed with the real drivers in mind. A practical and fuel efficient engine with take the car to reach nearly 40 miles per gallon.
Emissions are 20 per cent lower than the last Fiesta ST that was released. The engine is also more powerful than the early 2.0 liter engines, even while using so much less fuel.
Design
Power and practicality are important, but drivers also want something that looks good. The distinct, trapezoid-shaped grille and unique lines that were used throughout the exterior give off a sense of modern style.
The 2014 Ford Fiesta ST, released in 2013, offers a host of new features and greatly improves upon previous models, while competing nicely in the market. If you are in the market for an attractive, modern and powerful hatch-back – this one is worth considering.