Meo Costantini was a friend of Ettore Bugatti. He also happened to be the leader of the race team for Mr. Bugatti's factory for almost a decade. Meo also dabbled as a race car driver himself and won 2 Targo Florio competitions in the cockpit of a Type 35.
The 2013 Bugatti Veyron Meo Costantini is the latest in a series of "Les Legends de Bugatti" unveiled by the Italian automaker by way of France. Today, the Bugatti name is owned by Volkswagen.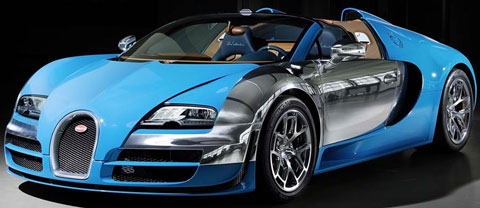 Specifications
General Info

| | |
| --- | --- |
| Vehicle Type: Coupe | Base Price: £2,090,000 |
| Fuel Tank Capacity: 26.4 gals (100 L) | MPG: NA |
Dimensions*

| | |
| --- | --- |
| Length: 175.7 in. (446.2 cm) | Wheel Base: 106.7 in. (271 cm) |
| Height: 47.4 in. (120.4 cm) | Width: 78.7 in. (199.8 cm) |
| Curb Weight: 4387 lbs (1990 kg) | Maximum Seating: 2 people |
Performance

| | |
| --- | --- |
| Engine: W16 Quad Turbo | Displacement: 8.0 Liter |
| Horsepower: 1200 HP | Max RPM: 6400 RPM |
| Torque: 1106 lb-ft @3000-5000 rpm | Transmission: 7-Speed DSG Dual Clutch |
| 0-60 mph: 2.6 seconds | Maximum Speed: 254 mph (409 km/h) |
* Bugatti Grand Sport specs
Engine & Performance
The engine of the Veyron Meo Costantini is nothing less than what you would expect from this race car.
Its 8.0 liter W16 quad-turbo generates 1,200 horsepower and 1,106 pound-feet of torque. The Veyron Meo Costantini accelerates from 0-62 mph in just 2.6 seconds with a top speed of 253 mph!


Exterior
The Bugatti Veyron Meo Costantini is reminiscent of the Type 35 in which Costantini enjoyed success driving the 1920's and 30's.
The color of the vehicle is a classic "Bugatti Dark Blue Sport". This also honors its French racing history.
Upon close inspection, you will see that many of the body parts are made of aluminum. It is less obvious than one may think, given they are polished and dipped in clear lacquer to give it a high quality sheen. These components include the medallions, doors, and wings.
Speaking of the wings, under the rear door, you will find another tribute to Mr. Costantini's racing career with the layout of the aforementioned Targo Florio race course where he emerged victorious in two occasions.
You will also find his autograph engraved on the oil caps and aluminum tank.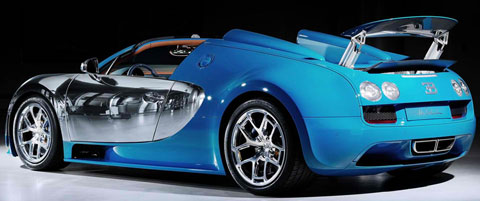 Interior
Inside, the upholstery is of high quality "Gaucho" leather, with a surprisingly complementary blue trim appropriately named "Lake Blue".
This hue is seen everywhere, including the steering wheel and instrument panel. Even the arm and head rests contain the color of fresh water under a clear sky. Once again, Costantini's signature is embroidered on the head rests and is stamped in blue.
The door panels include murals of scenes from his racing days.