After the successful launch of Les Legendes de Bugatti' series in California, Bugatti just unveiled its 2nd vehicle in the 2013 Motor Show in Frankfurt.
This French luxury vehicle manufacturer intends to launch one of its most famous creations, the 2013 Bugatti Veyron Jean Bugatti in celebration of Jean Bugatti (the oldest son of the company's founder).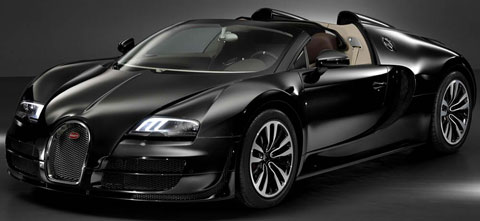 Specifications
General Info

| | |
| --- | --- |
| Vehicle Type: Coupe | Base Price: €2,280,000 |
| Fuel Tank Capacity: 26.4 gals (100 L) | MPG: NA |
Dimensions-1

| | |
| --- | --- |
| Length: 175.7 in. (446.2 cm) | Wheel Base: 106.7 in. (271 cm) |
| Height: 47.4 in. (120.4 cm) | Width: 78.7 in. (199.8 cm) |
| Curb Weight: 4387 lbs (1990 kg) | Maximum Seating: 2 people |
Performance

| | |
| --- | --- |
| Engine: W16 Quad Turbo DOHC | Displacement: 8.0 Liter |
| Horsepower: 1200 HP | Max RPM: 6400 RPM |
| Torque: 1106 lb-ft @ 3000-5000 rpm | Transmission: 7-Speed DSG |
| 0-60 mph: 2.6 seconds | Maximum Speed: 254 mph (409 km/h) |
1 Bugatti Grand Sport specs
Engine & Performance
The technology in found in the Bugatti Veyron Legend Jean Bugatti is based on the Bugatti Veyron 16.4 Grand Sport Vitesse which has an 8 liter W16 engine.
The engine generates 1188 horsepower (1200 PS) and an un-paralleled 110 lb ft (1500 Nm) of torque at 3000 to 5000 rpm. Jean Bugatti can go from 0 to 62 mph in 2.6 seconds making this car a great performance vehicle.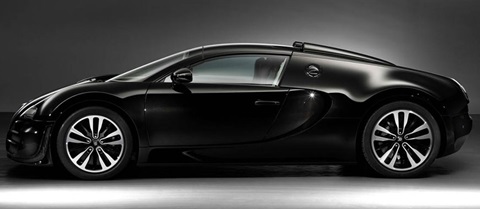 Exterior
The body of this car comes is made of a clear coated carbon fiber in jet black. This makes the car the embodiment of pure elegance and the apex of engineering.
Platinum lends have been used to give the car an extravagant look to go with the EB logo on the rear and the popular Bugatti horseshoe located at the front grille allowing the car to have a more striking look.
This vehicle's elegance is enhanced by the wheels which feature black diamond-cut rims.
Interior
The seats, steering wheel, instrument panel, dash panel, door trim panels, center console and the windscreen cross member are in chocolate brown.
The intricate and especially the eye-catching embroidery on the door panels and rear storage compartment add to the supercar's allure.
With the chocolate brown, contrasted against its leather upholstery in a light beige silk color extended across the center console, you are treated to Neapolitan faire.
The combination continues on the foot-well, door panels, and also the handle recesses. The unique decorative stitching in this car has been chosen to complement the leather material used.
The side silhouette of Type 57SC is embroidered onto chocolate brown doors using a beige silk thread.