It's a bird, it's a plane, no it's a super car dressed up for Halloween! Actually, it is the 2013 Bugatti Veyron Grand Sport Vitesse WRC in all of its black and orange glory creating a blur as it buzzes by. The "WRC" stands for World Record Car.
Chinese racing driver Anthony Liu was behind the wheel as this supercar hit 254.04 mph. The production of this vehicle is limited to 8 units.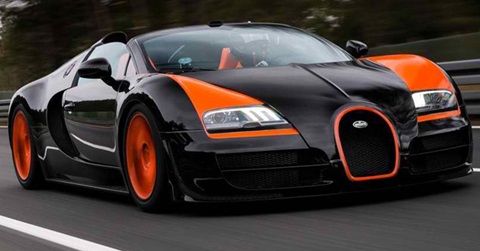 Specifications
General Info

| | |
| --- | --- |
| Vehicle Type: Supercar | Base Price: $2,587,000.00 |
| Fuel Tank Capacity: 26.4 gals (100 L) | MPG: NA |
Dimensions**

| | |
| --- | --- |
| Length: 175.7 in. (446.2 cm) | Wheel Base: 106.7 in. (271 cm) |
| Height: 47.4 in. (120.4 cm) | Width: 78.7 in. (199.8 cm) |
| Curb Weight: 4387 lbs (1990 kg) | Ground Clearance: NA |
| Luggage Capacity: NA | Maximum Seating: 2 people |
Performance**

| | |
| --- | --- |
| Engine: W16 DOHC | Displacement: 8.0 Liter |
| Horsepower: 1001 HP | Max RPM: 6000 RPM |
| Torque: 925 lb-ft @ 2200-5500 rpm | Transmission: 7-Speed DSG |
| 0-60 mph: 2.7 seconds | Maximum Speed: 254 mph (409 km/h) |
**Based on 16.4 Grand Sport
Engine & Performance
Needless to say this car is all about the engine. Packed under the hood is a 8.0 liter, 16 cylinder engine that generates an outstanding 1188 HP. The top speed? 254.04 mph set the world record. It covers 0-60 mph in a blazing 2.7 seconds.
The 4 wheel drive system sits atop a race car chassis with fast acting shock absorbers and reinforced roll bars to insure optimum handling and safety.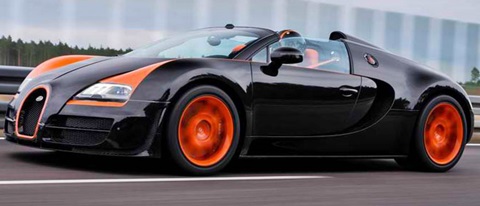 Exterior
The first thing you will undoubtedly notice is the color scheme which is in orange and black, it distinguishes this model from the standard Grand Sport Vitesse. From the front, the top of the front fenders are orange and extend down and around the headlamp assemblies.
The flat bottomed oval grill is also outlined in orange with the prestigious Bugatti emblem displayed in its center. The profile from the side starts with the oversized orange spoke wheels. The sleek lines Bugatti is known for of course are present in the standard carbon fiber outer shell. The rear has 4 taillights, 2 on each side of the large "B" in the center with an integrated rear spoiler extending from the roof.
Interior
As you might expect, the orange and black color scheme follows in the inteior. As you enter, a signature, located along the side sills are autographed by Anthony Liu and information related to the world record set by Bugatti.
Otherwise the inside is your basic race car setup with plenty of gauges accentuated with chrome.