BMW is one of the most popular auto makers in the world. They renowned for making high performance vehicles and high performance race cars that can be driven on a daily basis, allowing it to stand out from the rest.
One of their newest models is the 2013 BMW X5 eDrive Concept. The car combines all wheel drive comfort to go with a plug-in hybrid drive train.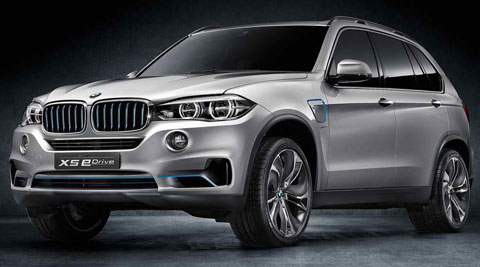 Engine & Motor
This BMW X5 concept is the second vehicle to bear the eDrive label. The concept SUV has a combined 95 horsepower electric motor with the turbo charged 4 cylinder engine to balance both efficiency and performance. BMW says that an eDrive system enables the X5 to attain a top speed of 75 mph and a range of 19 miles under electric power to go with the fuel consumption of 62 miles per gallon.
Hybrid Performance
According to BMW, the X5 Concept accelerates from 0 to 62 miles per hour in less than 7 seconds. Drivers can choose from 3 PHEV modes: the one that automatically operates the system, all-electric mode, as well as a Save Battery mode to conserve the battery's charge.
Exterior
It is not just beneath the hood that hints the SUV is an X5. The German car maker has given it a BMW iBlue treatment on the air intake bars, kidney grille slats, and the inlay in the rear bumper. This serves as a fine contrast to a Silver flake metallic outer paint.
The car also comes with the specially designed roof rails; twenty one inch aerodynamically designed wheels as well as a connector for charging cables that light up when the battery is charging.
BMW is leveraging the technology acquired from its "i" sub-brand and using it on its new models. The new 2013 BMW X5 eDrive Concept is a natural progression for the BMW, particularly with a combination of its all wheel drive technology.