The 2013 BMW M4 Coupe Concept shares many design similarities with other BMW models.
It is agile, dynamic and evokes strong emotions.
Some of the features of this vehicle are big air inlets, a low rear and a rear diffuser.
The car is visually attractive in addition to its enahnced performance capabilities, this BMW is worth the wait.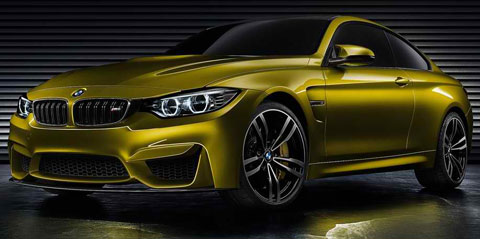 Design
Every design element complements the technical demands of the high performance vehicle. The car's design allow drivers to see what they can expect from the up and coming model – power, control and good handling.
This model looks a lot like the classic M model. For this reason, experts believe that it will have a modified version of the 435i's turbocharged engine. This power coupled with a lightweight design is exciting car enthusiasts around the world.
Exterior & Interior
Like other cars from BMW, this model is a high power vehicle which has everyday suitability. This is a concept that BMW tries to implement when designing a new car.
The body features a classic face with a double kidney complimented a double bar kidney grille. Up front, you will find twin round headlamps with LED technology. Vertical air vents provide function and style according to BMW standards.
Up top, you have a lightweight roof that add to its performance
The only complaint experts have is that they do not like the gold color of the vehicle. That being said, most experts say that the outstanding features of this model make its color irrelevant.
Soon
When the vehicle becomes available in the market, you can expect a hefty price tag. The style, power and design of the model has made it highly desirable.
The fact that it is a BMW only adds to its appeal. Industry insiders believe that the vehicle will be worth the cost as it combines what is right in all BMW's vehicles.