The Ferrari 599 GTO is soon to be retired. But before a final send off, Wheelsandmore (the German tuning company) will get a chance to work its make-over magic on this exotic Italian sports car.
The result is a souped-up 2012 Wheelsandmore Ferrari 599 GTO, and Wheelsandmore has hit a home run with its efforts.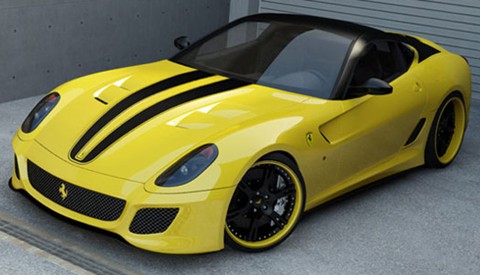 Mechanical Upgrades
Wearing a magnificent yellow and black powder paint job reminiscent of a giant bumble bee (the Transformer movie comes to mind), the new Ferrari 599 GTO showcases a set of 21″ three-piece handcrafted 6Sporz ultralight forged wheels encased by S1Evo Hankook tires.
The ultralight forged alloys also show off the yellow and black theme with dimensions of 9J x 21-inch for the front axle and 12.5J x 21-inch for the rear axle.
Wheelsandmore also incorporated into the supercar's suspension an additional hydraulic lift-able suspension triggered by a remote button.
This action will lift the front axle up 1.18 inches to permit the Ferrari 599 GTO to clear any type of road obstructions or debris that could pose a danger to the car's leading edge or undercarriage.
Tuned Performance
To top off the 599 GTO tune-up transition, Wheelsandmore gives it an overall improvement in performance which is the core of this upgrade program. Adding newly remapped ECU and hand-crafted stainless steel exhaust with remote-capable valve flaps, Wheelsandmore was successful in squeezing out more power from the already powerful supercar's massive V12 engine.
The result is an incredible potential leap from the standard of 670 horsepower and 457 lbs/ft of torque, to an ultra powerful 715 horsepower and 490 lbs/ft of torque.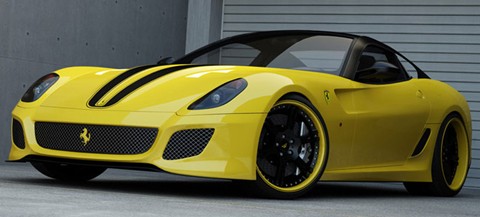 Amazingly, this car is advertised to go from 0 to 100 km/hr in 3.35 seconds with a high end speed of 335 km/hr, or 208 mph. This gives the 599 GTO drag strip acceleration combined with Indy car speeds.
The Wheelsandmore tune up program for the 2012 Ferrari 599 GTO is a fine piece of work that will send this famous Italian sports car into retirement with style.
Specifications
General Info

| | |
| --- | --- |
| Vehicle Type: Coupe | Base Price: NA |
Performance

| | |
| --- | --- |
| Engine: Natural V12 | Displacement: 6.0 Liter |
| Horsepower: 715 HP | Torque: 490 lb-ft |
| 0-60 mph: 3.35 seconds | Maximum Speed: 208 mph (335 km/h) |