The 2012 Volkswagen E-Bugster concept is the electric powered avatar of the world famous VW beetle. The concept was unveiled at the 2012 Detroit Auto Show.
Volkswagen has built upon the design DNA of the Beetle and made this concept sportier. The concept derives its name from the 2005 Ragster concept, which inspired the current generation of production Beetle.
Engine & Technology
The E-Bugster runs purely on electricity. The electric motor churns out 85kWh of power which is sufficient to propel this car from 0 to 60 mph in less than 11sec, which is respectable for a pure electric car. The car can run for 110 miles on a single charge, which is adequate for most commuters. Also, if needed, a fast charging function recharges the 28.3 kWh lithium-ion batteries in just 35 minutes.
Volkswagen developed the new combined charging system in collaboration with BMW, Audi, Daimler, Ford, Porsche and General Motors. The idea is to develop a uniform industry standard for charging sockets and plugs so that charging stations can cater to cars of different makes.
The E-Bugster is very efficient in terms of the energy consumption and it converts the kinetic energy into electrical energy as soon as driver's foot leaves the accelerator pedal. Application of brakes increases the intensity of conversion of kinetic energy into electric energy.
This converted electricity is stored in the battery. The instrumental cluster displays wide range of information regarding energy consumption and the estimated range of the car.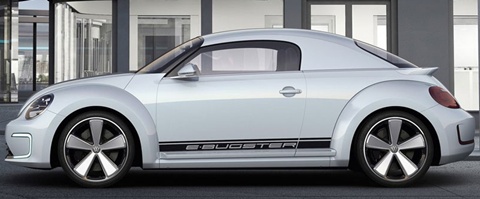 Design Features
Design of E-Bugster is sportier than the existing production Beetle. E-Bugster is wider by 30mm and slightly low set in design. The bumpers have been significantly modified and the car sports large wheel arches to fit in 20-inch allows that gives the car a muscular look.
The E-Bugster is a sporty two seater with a hi-tech interior. A continuous central console is placed between the two seats.
It is merely a concept at this stage. However, the car does impress in terms of the technology and takes us a step closer to practical electric vehicles.
Specifications
General Info

| | |
| --- | --- |
| Vehicle Type: Coupe | Base Price: NA |
Dimensions

| | |
| --- | --- |
| Length: 168.4 in. (427.8 cm) | Height: 55.1 in. (140 cm) |
| Height: 55.1 in. (140 cm) | Maximum Seating: 4 people |
Performance

| | |
| --- | --- |
| Motor: Electric | Power: 85 kWh |
| Max Range (fully charged): 110 miles | 0-60 mph: 10.9 seconds |