Detroit's 2012 North American International Auto Show was marked by the introduction of the premier Concept: the Toyota NS4 Advanced Plug-In Hybrid, which should be available on the open market globally by 2015. This all-new, dedicated plug-in hybrid is not a member of the Prius group of Toyota offerings.
It is a unique design with eyes on the future. The NS4 Concept sports a light, small power-train that delivers speedy acceleration and excellent fuel economy. Additionally, its plug-in system can be charged quickly and provides power for an extended period of time.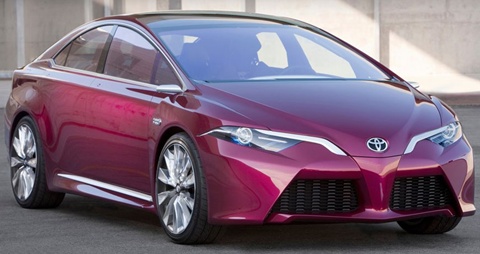 Features
Users will be happy with the familiar feel of the NS4-HMI (Human-Machine Interface) because it is intentionally designed to resemble a SmartPhone! Interacting with the HMI is quick and efficient and designed to prevent driver distraction. In addition to automatically managing such basics as navigation functions, audio, A/C, and battery charging, the HMI can also learn the preferences of the driver to incorporate typical driver responses into given situations and settings.
Safety
The Toyota NS4 Advanced Plug-in Hybrid has unparalleled safety features. Most notably, the PCS (Pre-Collision System) is able to predict the possibility of some collisions in a variety of circumstances and assist in avoiding them. The PCS features a Blind Spot Monitor that is capable of detecting vehicles in the next lane and alerting the driver via an indicator light located on the dashboard.
The PCS also includes collision avoidance technology capable of detecting potential encounters with pedestrians; rear-end collisions, and lane departure complications via near-infrared beams, stereo cameras, and millimeter-wave radar. When risks are detected, the vehicle can manipulate steering and brake automatically. In the place of conventional rear-view mirrors, the 2012 Toyota Concept has cameras that provide an extra-wide view to the rear of the vehicle.

More
As if all these modern wonders weren't enough, even the glass used on the 2012 Toyota NS4 Advanced Plug-in Hybrid Concept provides amazing benefits that lessen the consumption of fuel and greatly improve visibility.
All of the glass used in the Concept has a 'hydrophobic' coating, an anti-fog film, high UV absorbing inner layer, and anti-solar film featuring radio-wave transparency. All these features combine to create glass surfaces that repel water seamlessly, reduce fogging to minimal or non-existent, protect driver and passenger from the dangerous rays of the sun and prevent excessive temperature fluctuations within the vehicle.
All-in-all, the 2012 Toyota NS4 Advanced Plug-in Hybrid Concept promises to be a very welcome addition to the transportation of the future!