The Korean motor company, SsangYong, introduces the 2012 SsangYong e-XIV Concept car at the Paris Motor Show in 2012. The e-XIV concept builds on previous offerings from Ssang Yong, with improved technology and a greater range.
The e-XIV benefits from being equipped with a gas engine to supplement the electric engine and increase the range.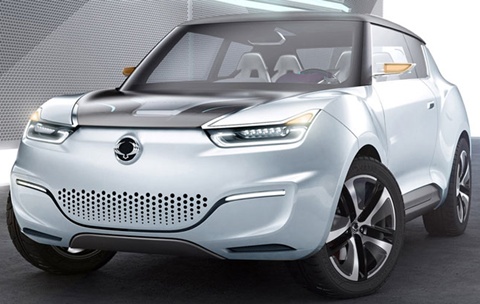 Integrated Solar Panel
One of the innovative features of this car is the glass roof, which has a built-in solar panel. The power needed to drive some of the vehicle's internal electrical systems is drawn from the solar panel. This includes internal lighting, the air conditioning system, and the car's audio system.
The concept is drive by a 1 liter, two cylinder hybrid engine. At this time, the 20kW motor has a range of 50 miles, after which the petrol engine allows it go 373 miles.
Exterior
The car is intended to be a crossover utility vehicle, and its visual appearance reinforces the impression of a car that is built for practicality rather than performance. It has quite a chunky, box-like appearance.
The designers have significantly reduced the amount of glass in the side and rear windows. The two side windows in the rear are tiny compared to other cars. The smaller side windows at the front result in the car's two doors having more metal than normal, adding to the solid appearance of the vehicle.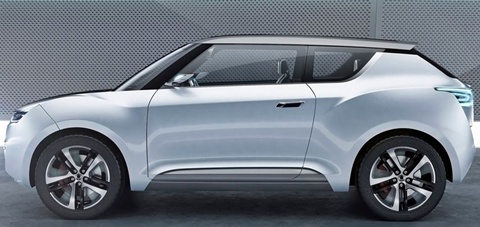 Interior
The car is supplied with four bucket seats, each of which can be adjusted independently. This allows the driver and passengers to individually adjust their seats, and also provides different configurations for storage.
The seats are finished in white and gray trim, and each has built-in headrests. There are separate central consoles dividing both the front pair and the rear pair. Use of purple and blue coloring on various surfaces provides eye-catching contrast to the white and gray.
A graphic display built in to the fascia provides real time information to the driver. The car incorporates the newest developments in IT, providing full interconnectivity for modern smart devices.