To commemorate the Exposition Internationale des Arts Décoratifs et Industriels Moderne held in Paris in 1925, the exposition gave rise to the term "art deco". Rolls-Royce unveiled their own art deco style versions of three of its popular family of cars at the 2012 Paris Auto Show.
Rolls Royce revealed art deco versions of its Phantom Saloon and Ghost models, as well as the Phantom Drophead Coupe. The chief executive of Rolls-Royce Motor Cars, Torsten Müller-Ötvös, explained that the art deco cars would serve to promote the company's skill, elegance and artistry in producing bespoke interiors and exteriors for clients.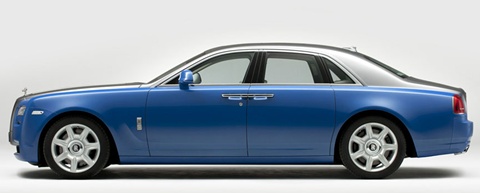 Colors
Buyers of the art deco Phantom can choose from a range of colors. These are Arctic white, Arabian blue, powder blue or infinity black. Regardless of color, each car will be trimmed with a dual coach line bearing an art deco theme.
In reference to glassware from the art deco period, the symbolic Spirit of Ecstasy is illuminated. In the Phantom's interior, extensive use is made of art deco motifs and styles, like the embroidery on the headrests and the inlays on the black veneers.
Ghost models will also ship with the illuminated Spirit of Ecstasy, dual coach line, and internal art deco motifs and styles similar to the Phantoms. However, exterior color choices for the Ghost are limited to Arctic white or infinity black.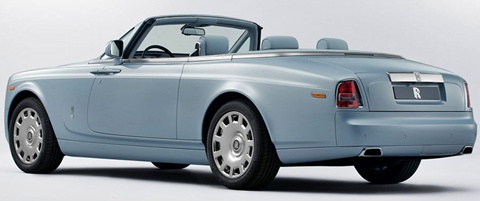 Material
Building each customized art deco car at its factory in Goodwood in the UK, Rolls-Royce uses only the highest quality materials. These are selected for the exquisitely crafted art deco features. A luxurious ambience is created inside the car by sublime matching of the finest leather with cashmere upholstery.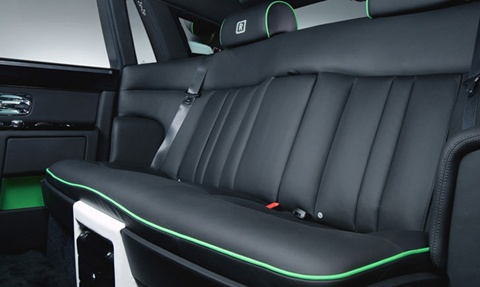 The wood veneers used in the cars have been especially source for their intricacy of grain, and depth and richness of color. Reminiscent of the finest art deco cabinet furniture, the wood veneers are decorated with inlays made from silver or mother of pearl.