The 2012 Peugeot Onyx Concept is tasked to steal the limelight from its rivals especially from its feline face.
An attractive body is not the only feature that this Peugeot supercar will be known for.
You will also get a powerful V8 engine and lightweight will also help this car to outsmart rivals in races.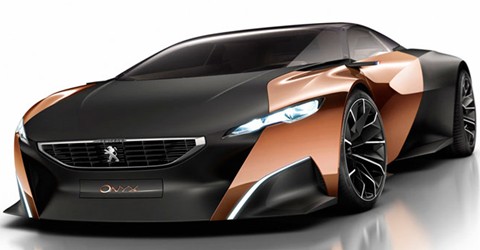 Specifications
General Info

| | |
| --- | --- |
| Vehicle Type: Hybrid | Est. Market Price: NA |
Performance

| | |
| --- | --- |
| Engine: V8 Hybrid | Displacement: 3.7 Liter |
| Horsepower: 600 HP | Max RPM: NA |
| Torque: 43 lb-ft | Transmission: 6-Speed Sequential |
| 0-60 mph: NA | Top Speed: NA |
Engine
Under the carbon fiber shell, the Onyx Concept is powered by a 3.7L V8 twin-turbo hybrid powertrain and an 80 HP electric motor. These two combine to bring the Onyx's total horsepower to 680. The gasoline engine generates 855 lbs-ft of torque while the electric motor adds 206 lb-ft resulting to a remarkable 1061 lbs-ft of torque.
The power is stored in lithium-ion batteries and sent to the rear wheels using a 6-speed sequential transmission. With such remarkable power output, the Onyx can accelerate from 0 to 60 mph in just 2.2 seconds. The Onyx Concept's power to weight ratio is impressive and is approximated at 2kg per brake hp. This ratio enables this supercar to achieve high performance without compromising its elegance and purity.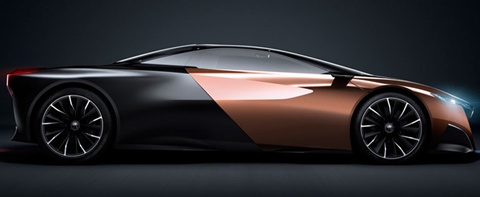 Exterior
The Concept comes with unprotected copper polished doors and wings. The rest of the body is covered with carbon fiber pieces in matte black. The front fascia comes with a flat vertical grille with 4 horizontal louvers and a lion emblem. Both flanks of the grille feature a pair of squinting LED headlights.
On the top side, there is a double-hump roof that boasts 2 air intakes, channeling the air to the engine. This roof is made of Ply Methyl Methacrylate (PMMA) material, which is light in weight and shatter resistant. The rear is fitted with a lot of LEDs including: the light bar, Onyx bade and Peugeot's signature 3-claw taillights.
Interior
The cockpit does not come with seats; rather it features a tub design with two indentations you slide into. The seating position provides you with excellent road feedback as well as a great view. The cockpit is soundproof, and is made of compressed and stretched felt. The dashboard is made of a new simulated wood, known as Newspaper wood.
The driver can view all engine activities and the vehicle's speed through the heads-up display, while the rearview camera display, located on the ceiling, provides the driver with images from the 3 rearview cameras. Another great feature is the camera mounted between the headrests that capture your driving experience which can later be uploaded to a laptop for review.
The 2012 Peugeot Onyx Concept can only be described as the future supercar that many enthusiasts can only dream of. At the moment, there cannot be any supercar which can be placed in the same class with the Onyx concept