Since the 205, Peugeot has been producing quality cars in the super mini category.
This year the 2012 Peugeot 208 GTi Concept is introduced as part of a successful line of vehicles.
It sports a potent 1.6 liter engine, along with a 6 speed manual gearbox, and a small steering wheel to provide a close and sporty feel.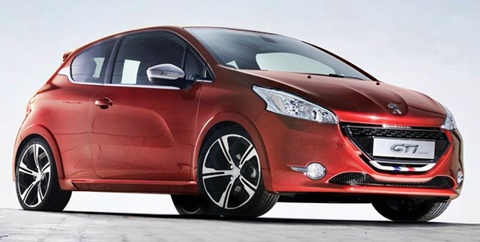 Exterior
The look of this Peugeot was developed from the 207's sleek looks to provide a smooth but paneled textured look. The headlamps are full LED, and produce some interesting effects depending on the setting.
Surrounding LED indicators give the lamps the look of an iris when used, while on full beam, the headlamps produce the effect of a feline eye.
The double chrome exhaust pipes give a very sporty look to the rear, while spoilers and skirting only serve to enhance this feel.
The brushed aluminum grill forms a checkered pattern, akin to the racing flags, and the lower bar surrounding it, provides a French tricolor flag or British Union Flag design based on its origin.
Interior
The 2012 Peugeot 208 GTi Concept features double stitched leather sports bucket seats that hold you securely when driving, while the steering wheel too, is leather. The dashboard and instruments are all LED backlit, Alcantara finishing to the fascia, and aluminum pedals help complete the sporty look.
Performance
The Peugeot 208 GTi Concept is powered by a 200 hp RCZ THP 200 engine that with its light body produces an exciting top speed and acceleration. The 6 speed gearbox delivers power to the front wheels, while the top mounted rear spoiler helps keep downforce on the car at high speeds.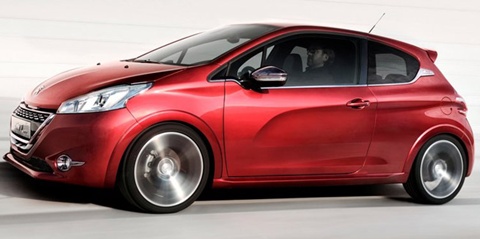 Braking is in the form of four disc brakes, with the larger ones mounted at the front.
Although at present, there aren't any production plans for the 2012 Peugeot 208 GTi Concept, but the reality is the concepts being displayed by this car are not unrealistic anyway.