The 2012 Nissan Titan is a capable full-size truck that can deliver what a regular truck user needs.
However, it is less favored because its competitors are less expensive, newer and more capable.
Having that noted, the new Nissan Titan seems to be a little dated.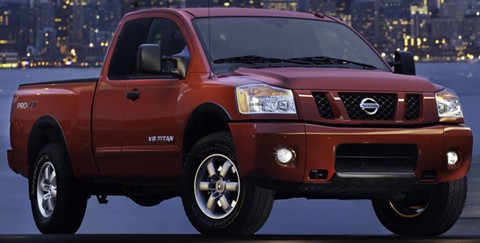 Specifications
General Info

| | |
| --- | --- |
| Vehicle Type: Truck | Base Price: $28,520.00 |
| Fuel Tank Capacity: 28 gallons (106L) | MPG: 13 city / 18 hwy |
Dimensions

| | |
| --- | --- |
| Length: 224.6 in. (570.4 cm) | Wheel Base: 139.8 in. (355 cm) |
| Height: 74.6 in. (189.4 cm) | Width: 79.5 in. (201.9 cm) |
| Curb Weight: 4847 lbs (2198 kg) | Ground Clearance: 10.2 in. (25.9 cm) |
| Luggage Capacity: NA | Maximum Seating: 5 people |
Performance

| | |
| --- | --- |
| Engine: 32 Valve V8 DOHC | Displacement: 5.6 Liter |
| Horsepower: 317 HP | Max RPM: 5200 RPM |
| Torque: 385 lb-ft @ 3400 rpm | Transmission: 5-Speed Automatic |
| Max Towing Capacity: 7400 lbs (3356 kgs) | Maximum Speed: NA |
Available Trims & Engine

| | |
| --- | --- |
| Option:SV King Cab 4×2 | MSRP: $30,520; MPG: 13 city / 18 hwy |
| Option:Pro 4X King Cab 4×2 | MSRP: $36,070; MPG: 13 city / 18 hwy |
| Option:Crew Cab S 4×2 | MSRP: $31,070; MPG: 13 city / 18 hwy |
| Option:Crew Cab SV 4×2 | MSRP: $32,270; MPG: 13 city / 18 hwy |
| Option:Crew Cab Pro-4X 4×4 | MSRP: $38,270; MPG: 12 city / 17 hwy |
| Option:Crew Cab SL 4×2 | MSRP: $38,440; MPG: 13 city / 18 hwy |
Engine
The 2012 Nissan Titan is equipped with a 5.6 liter V8 engine that delivers 317 horsepower and 385 lbs/ft of torque. It is paired with a 5-speed automatic transmission. This should provide adequate muscle when you are driving on the highway.
However, it is, according to the EPA, one of the trucks that have the worst fuel economy ratings. Its all-wheel drive model has a rating of 17 mph for highway and 12 mpg for city driving. Its two wheel drive model only increases the numbers by one.
Performance
The Nissan Titan is good on the road. It performs well during passing. However, the transmission system is not flawless. Although the shift from the first to second gear is smooth, there are delays in other gears especially if you are downshifting.
For a truck, the Nissan Titan handles well. However, the competition seems too fast for the Titan to catch up because other trucks are coming with a "car-like" handling. That could certainly leave Nissan far behind even if the Titan provides a comfortable and smooth ride. If you do not expect much from a truck, particularly about car-like handling, the Titan is just all right for you.
Exterior
When it comes to trucks, there is not much to expect when it comes to appearance. The basic features such as the bed, the muscular frame and the big hood are present in the Titan. It has a smooth finish and minimal curves that help a bit in preventing it from looking dated. The Titan does not look like the truck of the future either. It appears just right for its time.

Interior
Nowadays, customers expect more comfort from trucks because they serve purposes other than hauling and towing. This is what we do not like about the Titan. Its interiors do not provide the comfort that the RAM 1500 (MSRP $30,290; 14 city / 20 hwy) brings.
It does not have useful in-truck computers which are very useful at work like the Ford F150 (MSRP $23,500; 17 city / 23 hwy) has. And although the Titan provides adequate cargo space, it is not as clever as the cargo solutions provided by the Ram 1500.
The front seats of the Titan are comfortable and spacious but not its bench and rear seats. This problem was common for trucks before but since its competitors have already improved in this aspect, Nissan has some catching up to do.
Safety
The Insurance Institute for Highway Safety gave the Titan a "good" score in frontal offset and rear crash tests. The Titan received an "acceptable" score for roof strength tests but it is not yet tested for side-impact tests.
On the other hand, the Titan received 3 out of 5 stars from the National Highway Traffic Safety Administration.
Reliability
The 2012 Titan comes with the basic 3-year warranty and a 5-year warranty for the powertrain.
Pros & Cons
The Nissan Titan is powerful, well-handling and has a spacious cabin. Despite its good qualities, the Nissan Titan is outshined by its competitors in many aspects.
Because there are better trucks than the 2012 Nissan Titan for the price, you might just go home with another truck.
Overall Rating


65 out of 100
What others say:
"The 2012 Nissan Titan has held up well over a long lifespan, but its gas mileage, towing and hauling, and performance have fallen to the back of the full-size pickup truck pack."Car Connection
"Titan is relatively easy to drive for a big pickup. Still, as with any of the breed, the rear end tends to hop through bumpy corners when the cargo bed is empty. Steering feel is accurate, and the brakes deliver smooth stops."Consumer Guide
"Nissan's full-sized truck has an impressively large cabin and is relatively agile. It has a decent ride and a punchy engine with a very smooth transmission."MSN Auto-ConsumerReports
"While marketed primarily to those who do light- to medium-duty work, it's probably a better bet that the 2012 Nissan Titan will find a home with those who like to spend weekends on the lake with their boat, or up in the mountains with their dirt bikes."KBB
"The 2012 Nissan Titan lineup possesses some rugged qualities and value opportunities, but overall it's outclassed by other, newer pickups."Edmunds