The 2012 Nissan Juke is one of the several small cars available on the market that come at a very affordable price. What sets this car apart from the multitude of small cars in the industry is its unique and quirky design.
Because of its unique approach in exterior design, this model sacrifices aspects of space efficiency. Despite this, the Juke does have its own strong points in certain areas.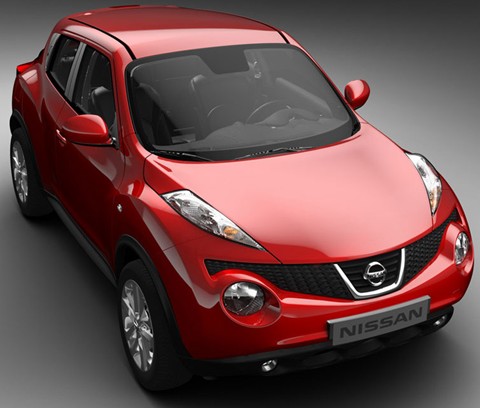 Specifications
General Info

| | |
| --- | --- |
| Vehicle Type: Crossover | Base Price: $19,990.00 |
| Fuel Tank Capacity: 13 gallons (49L) | MPG: 27 city / 32 hwy |
Dimensions

| | |
| --- | --- |
| Length: 162.4 in. (412.5 cm) | Wheel Base: 99.6 in. (252.9 cm) |
| Height: 61.8 in. (156.9 cm) | Width: 69.5 in. (176.5 cm) |
| Curb Weight: 2959 lbs (1342 kg) | Ground Clearance: 7 in. (17.7 cm) |
| Luggage Capacity: 10.5 cu ft | Maximum Seating: 5 people |
Performance

| | |
| --- | --- |
| Engine: 16 Valve Inline 4 DOHC | Displacement: 1.6 Liter |
| Horsepower: 188 HP | Max RPM: 5600 RPM |
| Torque: 177 lb-ft @ 2000-5200 rpm | Transmission: Xtronic CVT® (Continuously Variable Transmission) |
Available Trims & Engine

| | |
| --- | --- |
| Option:Juke SV | MSRP: $21,610; MPG: 27 city / 32 hwy |
| Option:Juke SL | MSRP: $23,930; MPG: 27 city / 32 hwy |
| Option:Juke S AWD | MSRP: $21,650; MPG: 25 city / 30 hwy |
| Option:Juke SV AWD | MSRP: $23,760; MPG: 25 city / 30 hwy |
| Option:Juke SL AWD | MSRP: $26,080; MPG: 25 city / 30 hwy |
Engine
The Nissan Juke is equipped with a turbocharged engine as well as fluid athletic handling dynamics. This model is generally praised as an above average performer. The Juke is built with an optional all-wheel drive as well, making it a safe choice for tumultuous weather conditions.
Despite its relatively small build, the Juke produces 188 horsepower with its 1.6 liter 4 -cylinder injection engine. This comes with all trims of the Juke. Compared to other small car models, the Juke's engine offers an average rating for fuel economy.
The car is also equipped with the Nissan's Integrated Control System (I-CON). This allows drivers to choose from 3 modes (Eco, Normal, and Sport). Eco mode has a minimal throttle response while Sport has the fastest response. This is an intuitive system that is easy to access.
Performance
The handling of the Juke is comparable to models like the Mini Cooper. The all-wheel drive allows for better grip and some owners praise the car's agility in handling.
Exterior
Most will agree that the design choice for the 2012 Nissan Juke is quirky and uncommon. Everything from its wide hips, angular rear as well as odd body proportions and striking grille all form a rather unconventional exterior look and feel.
The unique design choice also reflects all the way into the interior. Glossy plastic accents dominate the interior as well as bright nylon upholstery.
Interior
The Juke is a small car and given that fact, there is pretty much little room for the interior. The front seats are relatively comfortable but the back seats do not fare as well when it comes to comfort. The roof is quite low in the back and there is even smaller space for legroom. The same can also be said for the cargo space as the Juke offers the smallest room available for its size.
The car's interior features are straightforward and easy to use. The Juke has an extensive list of standard features you would expect from modern builds. Higher trims can be installed with optional features, like rearview cam and radio traffic updates.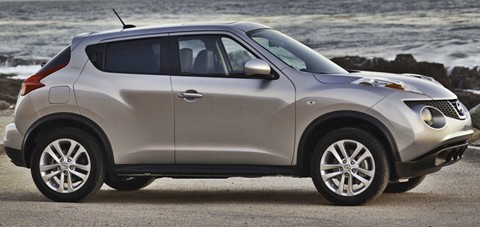 Safety & Reliability
The Juke scored "Good" on all safety tests by the Insurance Institute for Highway Safety and scored 4 out of 5 in tests done by the Federal Government.
The Juke comes with the standard safety features such as 6 multidirectional airbags as well as traction control for better handling as well anti-lock brakes. However, the Juke only scored 2.5 out of 5 in the predicted reliability rating set by J.D. Power.
Pros
Integrated Control System offers 3 driving modes
Optional all-wheel drive for bad weather
Superb handling
Unique Exterior Design
Complete Standard Interior Functionalities and Safety Features
Good Rating on Standard Safety tests
Cons
Small, uncomfortable back seat
Small Cargo Space
Average Predicted reliability
The Juke is a unique looking model that performs fairly well with an intuitive control system and above average handling. Space is always an issue for these kinds of builds. Those looking for a dependable car for those quick weekend getaways or frequent trips to the grocery store can find a great deal with the 2012 Nissan Juke.
Competition
You can count the number of cars that may be comparable to the Juke, this includes the 2 seater Honda CR-Z (MSRP $20,345; 35 city / 39 hwy), the Mini Cooper (MSRP $19,500; 29 city / 37 hwy), and the Kia Sportage (MSRP $18,500; 21 city / 29 hwy).
Overall Rating


68 out of 100
What others say:
"Scant room and lousy gas mileage probably don't even matter–if you're into the 2012 Nissan Juke's crazy styling, you'll probably love its zingy powertrain and its dino-skin cockpit."Car Connection
"Thanks in part to a fairly wide track (distance between wheels on the same axle) and standard 17-inch tires, all Jukes have sporty, nimble moves. AWD models deliver an extra measure of road-holding grip. "D-Mode" system's Sport setting sharpens the steering feel for spirited driving."Consumer Guide
"The funky-looking Juke is derived from the small Nissan Versa. It has the raised ride height and optional AWD of an SUV, but the steeply raked rear quarter makes for lousy rear visibility."MSN Auto-ConsumerReports
"If you're into cutting-edge interior styling, the 2012 Nissan Juke crossover is the poster child for the compact CUV segment."KBB
"It might not be love at first sight, but a drive in the 2012 Nissan Juke will have you seeing the inner beauty of this feisty hatchback."Edmunds