Auto industry concerns about emission reduction has led to vehicles that meet better standards. The Nissan e-NV200 Concept, made its debut in the Auto Show in Detroit, is a concept car which helps affirm Nissan as one of the leaders in this segment.
Environment Friendly
The power train is similar to that of the Nissan Leaf, requires no gas, has no exhaust pipe and does not have any emissions. This ensures that you get a quiet, comfortable and smooth ride. The inside is functional and is contained within a compact overall body length.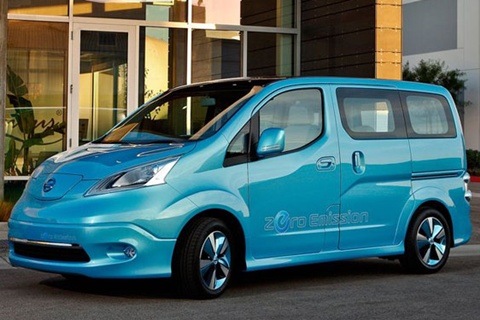 The generous cargo space in the car will make it ideal as a Taxi. It can comfortably seat four passengers and has sliding doors which facilitate entry and exit. It has passenger controlled air conditioning and heating, with a filter to make the cabin air cleaner and healthier.
Attractive Inside & Out
The e-NV200 has a pleasing look. It has a wide hood with sweeping headlights and has illuminated accents. The front window is large and along with two large glass roof panels, they provide for an airy interior. The color of the exterior is customized to enhance its environment friendly image.
The inside of the car is very functional that includes EV meters, blue colored accents and a bright interior color palette. The e-NV200 uses advanced telematics and has a flat C-cluster which can be given inputs like a tablet computer.
Performance
Under the hood is a lithium-ion battery which delivers power to a highly efficient 80 KW AC synchronous motor. The motor develops a torque of 207 lb-ft and unlike a conventional IC engine; the motor develops 100 % of its torque instantly. The acceleration is smooth without time lag and this translates into a comfortable and smooth ride.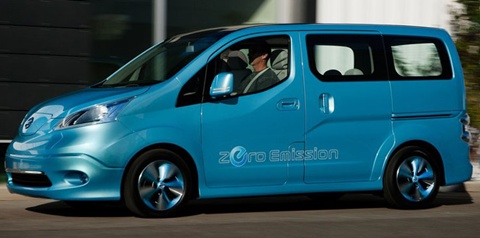 The e-NV200 offers an excellent fuel economy, which is a critical factor if the car is used in commercial applications. The e-NV200 is undergoing testing around the world and the feedback is being used to improve the car and develop future models.