The 2012 Mini Clubvan Concept was unveiled at the Geneva International Motor Show in March 2012.
The design of the van adheres to the guiding principle that motivated the production of the first Mini car – to provide as much space and comfort in as small a space as possible.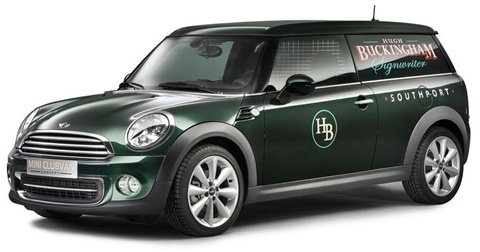 Seats
The van is a two seater and all the remaining space is given over to cargo. There are five doors on the van. There are two front doors for the driver and passenger. The cargo area is accessed by two split rear doors and an additional door on the right-hand side. The cargo area is separated from the front seats by a partition grille.
Cargo area
Since the van is specifically designed for moving cargo; great attention has been paid to maximize carrying capacity. The cargo floor area is completely flat. There are six strategically placed loops to act as anchors for cargo of all shapes and sizes.
The versatility in handling different types of cargo is further enhanced by the use of elasticized straps that connect to the anchor loops.
The full height partition grille prevents cargo from spilling into the seating area. This is of dual construction. The upper part is made from stainless steel grating, while the lower part is made from aluminum.
The two doors at the rear and the side-loading door make it easy to access the load area.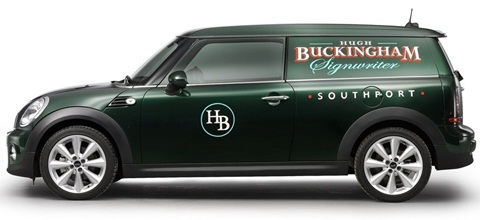 Exterior
Visually, the Clubvan Concept is unmistakably a Mini. The car is finished in British Racing Green. To protect the cargo area from prying eyes, the rear side windows and the windows in the rear doors are deeply tinted and match the body color. Polycarbonate paneling is also the same color as the rest of the car.
The single color theme on the exterior of the 2012 Mini Clubvan Concept makes the van ideal for carrying company logos. Logo and contact details can be displayed seamlessly over the rear side windows and paneling.