The one thing that kept test drivers and reviewers from completely loving the 2012 Mercedes-Benz S-Class is its price.
It's a seriously expensive car, and many people who are in the market for a super luxury car might be dissuaded from doling out the cash they'd need for this otherwise outstanding vehicle. In the S Class, what you get is one of the best that Mercedes Benz has to offer, the investment is worth it.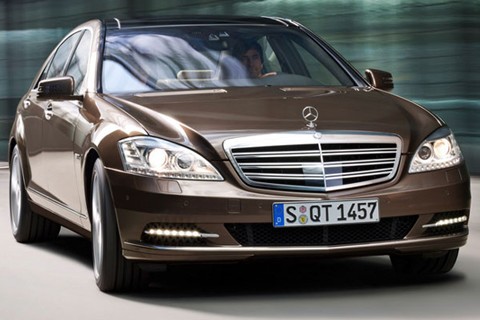 Specifications
General Info

| | |
| --- | --- |
| Vehicle Type: Sedan | Base Price: $92,550.00 |
| Fuel Tank Capacity: 23.8 gallons (90 l) | MPG: 21 city / 31 hwy |
Dimensions

| | |
| --- | --- |
| Length: 206.5 in.(524.5 cm) | Wheel Base: 124.6 in. (316.4 cm) |
| Height: 58 in. (147.3 cm) | Width: 83.5 in. (212 cm) |
| Curb Weight: 4474 lbs (2029 kg) | Ground Clearance: 5.8 in. (14.7 cm) |
| Luggage Capacity: 16.4 cu ft | Maximum Seating: 5 people |
Performance

| | |
| --- | --- |
| Engine: 3.5L DOHC V6 Turbo-Diesel | Compression Ratio: 15.5: 1 |
| Horsepower: 240 HP | Max RPM: 3600 RPM |
| Torque: 455 lb-ft @ 1600-2400 rpm | Transmission: 7-Speed Automatic |
| 0-60 mph: 7.0 seconds | Maximum Speed: NA |
Available Trims & Engine

| | |
| --- | --- |
| Option:S400 Hybrid | MSRP: $91,850; MPG: 19 city / 25 hwy |
| Option:S550 4.7L V8 | MSRP: $94,500; MPG: 15 city / 25 hwy |
| Option:S550 4Matic | MSRP: $97,500; MPG: 15 city / 24 hwy |
| Option:S63 AMG 5.5L | MSRP: $139,300; MPG: 15 city / 23 hwy |
| Option:S600 5.5L V12 | MSRP: $159,500; MPG: 12 city / 19 hwy |
| Option:S65 AMG 6.0L V12 | MSRP: $210,900; MPG: 12 city / 19 hwy |
Engine
The 2012 Mercedes-Benz S-Class has several trims, including the diesel 350 Bluetec, which has an all wheel drive 3.0 liter turbocharged V6 engine that brings 240 horsepower at 3600 rpm and 455 lbs-ft of torque. The S350 gets 21 miles per gallon in the city and 31 mpg on the highway. The S550 has a 4.6 liter, twin turbo V8 engines that brings with it 429 horsepower at 5250 rpm and 516 lbs ft of torque.
Rear wheel drive comes standard on this car, but the driver has the option of all wheel drive. Both the S350 and the S550 have seven speed automatic transmission. The S550 gets 15 mpg in the city and 25 mpg on the highway, with the all wheel drive version getting a little less.
The S600 comes with a twin turbo V12 engine that brings an astonishing 510 horsepower at 5000 rpm and 612 lbs-ft of torque, but it only comes with rear wheel drive, and gets the least fuel economy at only 12 mpg in the city and 19 mpg on the highway. It also has a five speed automatic transmission.
Performance
Test drivers complained that though the transmission on the S350 and S550 is smooth, it is sometimes balky when it downshifts. The car was praised for its smooth and balanced performance, though reviewers were ambivalent about the car's steering.
Some complained that the steering was vague or had no road feel. Test drivers liked the S-Class brakes well enough, but some thought the S350 Bluetec's brakes lacked firm stopping power.
Exterior
Though test drivers found the looks of the car pleasing, they noted that the bodywork hasn't changed since 2007. On the other hand, the look does have a timeless elegance about it.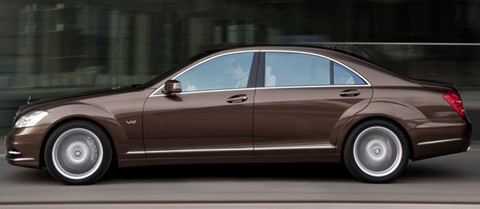 Interior
Some considered the S-Class's interior absolutely inviting as well as spacious. The material used combined with the delicate construction is superb. The panels are upholstered in quilted leather and trimmed with real wood. Even the base model is opulent.
Some of the features include Bluetooth, USB ports, a 15 speaker audio system and a hard drive based navigation system. The seats are cushy and endlessly adjustable thanks to the installation of pneumatic chambers inside. The seats also come with their own heating and ventilation and the driver can opt for front seat massage and rear seats that are also power adjustable as well as able to be cooled and heated. There's also a nifty climate control that covers four zones.
However, the reviewers disliked the COMAND system, it required too much of a learning curve. The trunk has 16.4 cubic feet of space, which is bigger than some cars in its class and smaller than others. There's also not much in the way of interior storage.
Safety
Neither the National Highway Traffic Safety Administration nor the Insurance Institute for Highway Safety has tested the S-Class for safety, but some of its safety features include passenger and driver air bags, 4 wheel ABS and 4 wheel disc brakes, child safety locks, daytime running lights, night vision, an emergency release for the trunk and traction control.
Reliability
J.D. Power and Associates gives the S-Class a four out of five predicted reliability score. The car comes with a four year or 50,000 mile basic warranty. Roadside assistance can be had for the life of the warranty, or if the car is regularly maintained at a Mercedes dealership. There's no powertrain warranty.
Pros
The interior is ultra-luxurious and capacious and the car's performance is wonderfully nimble, while the ride is quiet. It's an excellent ride for someone who wants a Mercedes full of bells and whistles.
Cons
The car looks pretty much the same as it did in 2007. Once again, people found the car just too pricey. The cabin electronics were also hard to learn.
For a car with a more up-to-date look, you may want to look into the BMW-7 Series (MSRP $71,000; 17 city / 25 hwy), the Porsche Panamera (MSRP $75,200; 18 city / 27 hwy) or the Audi A8 (MSRP $78,750; 18 city / 28 hwy). Less expensive luxury cars include the Lexus LS and the above mentioned 7-Series and the Panamera.
Other options include the CLS, also from MB (MSRP $94,900; 16 city / 25 hwy), providing more horsepower and an equally plush interior; not to mention the equally menacing BMW M5 (MSRP $89,900; NA city / NA hwy) and the hybrid from Lexus, the LS 600h (MSRP $112,750; 19 city / 23 hwy).
Overall Rating


85 out of 100
What others say:
"Since all S-Class sedans sold in the U.S. are long-wheelbase cars, they're all essentially alike, at least in terms of interior and cargo space."Car Connection
"Considering its size and heft, the S-Class is surprisingly poised and sporty, with an uncanny ability to maintain composure in bumpy turns. The steering is perfectly weighted, and the brakes easily modulated."Consumer Guide
"The S-Class is quick, quiet, luxurious, and a delight to drive. A more powerful and fuel efficient 4.6-liter V8 arrived for 2012. The cushy ride is extremely comfortable and the best we've tested, yet handling, steering, and ride control are also first class."MSN Auto-ConsumerReports
"When driving the 2012 Mercedes-Benz S-Class, one experiences two very distinct personalities. On the one hand, the S-Class is a surprisingly agile automobile, contradicting its enormous size with a highly…"KBB
"Wide variety of impressive engines; world-class craftsmanship; composed ride and handling; a showcase of convenience and safety technology; whisper quiet…Interior features can be overwhelming, with occasionally unintuitive controls."Edmunds