This client-inspired concept car, is based on McLaren's 12C, yet in a unique body. It is created for the car enthusiast, and is built to be driven, and not just displayed. The 2012 McLaren X-1 Concept has a carbon, MonoCell chassis, a unique body, and endless luxury features.
The design is a combination of a number of classic cars, embodying the McLaren value of each part having a purpose, tailoring features to the drivers needs.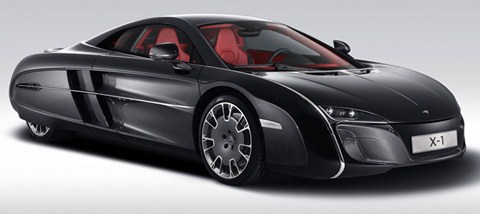 Specifications
General Info

| | |
| --- | --- |
| Vehicle Type: Coupe | Base Price: NA |
Dimensions

| | |
| --- | --- |
| Length: 183.3 in. (465.8 cm) | Wheel Base: 105.1 in. (266.9 cm) |
| Height: 47.2 in. (119.9 cm) | Width: 82.5 in. (209.7 cm) |
| Curb Weight: 3086 lbs (1400 kg) | Ground Clearance: NA |
| Luggage Capacity: NA | Maximum Seating: 2 people |
Performance

| | |
| --- | --- |
| Engine: V8 DOHC | Displacement: 3.8 Liter |
| Horsepower: 616 HP | Max RPM: 7000 RPM |
| Torque: 443 lb-ft @ 3000 rpm | Transmission: 7-Speed Auto/Manual |
McLaren's attention to detail and commitment to perfection takes the supercar to a different level. McLaren listens, and has made their newest landmark sports car, the 2012 X-1 concept.
Engine And Design
This concept car is designed for ultimate personalization through McLaren Special Operations (MSO). It is engineered to be drivable, and is legal to drive on the road, not just to admire.
The 616 Horsepower, twin-turbo engine provides exceptional acceleration, and top speed. McLaren Special Operations has taken one client's desires in a car, and brought it to life. It is a drivable, high-speed, luxury car, with a unique body design resembling a futuristic car. The goal is to create something classical with timeless elegance.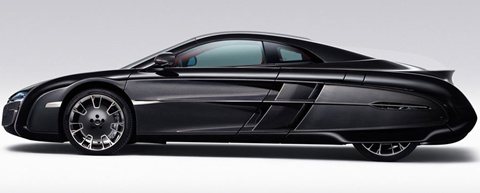 Exterior
The McLaren X-1 Concept's body is made of panels of carbon, finished in piano black, and lacquered with carbon fiber, making for an exquisite finish. Its unique head and taillights are made of solid aluminum, with a nickel finish.
Exclusive to the X-1, are the diamond-turned wheels, with complimentary tinted lacquer. Another unique styling feature is the over-the-shoulder rails at the bottom of the windshield, and rear window, along with enclosed rear wheels. Attention to detail is shown by illuminating the rear plate.
The header tank has an aluminum cap, and carbon finishers line the engine bay. The X-1 is longer than McLaren's 12C, but its lighter carbon structure compensates for the longer and wider body in weight.
Interior
The McLaren interior architecture may remain the same in the X-1, but it is enhanced with Red, Nappa leather seats, doors, and roof trim. The Andesite-tufted carpet is another high-quality feature added.
The carbon, titanium weave trim in the interior, gives the car a 3-dimensional effect, and adds to its classy look. The sides are part of the dihedral action doors, with twin hinges, giving the car a bat mobile look that is quite unique, and fascinating to look at.