The German company mcchip-dkr specializes in taking leading brand cars and enhancing them, either visually or performance, or both.
The 2012 mcchip-dkr Mercedes-Benz SLS 63 AMG MC700 is a perfect example of how this specialist tuner can take a car that is already a a phenom, and makes it nearly a masterpiece. This is a lethal combination that other cars should take notice of.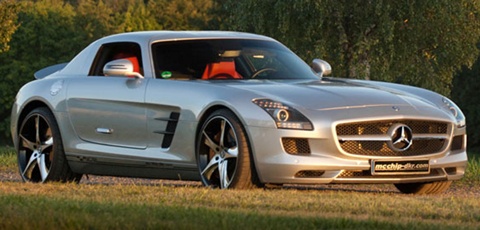 Specifications
General Info

| | |
| --- | --- |
| Vehicle Type: Super Sport Coupe | Est. Market Price: NA |
| Fuel Tank Capacity: 22.5 gallons (85L) | MPG: NA |
Dimensions

| | |
| --- | --- |
| Length: 182.6 in. (463.8 cm) | Wheelbase: 105.5 in. (267.9 cm) |
| Height: 49.7 in. (126.2 cm) | Width: 76.3 in. (193.8 cm) |
| Luggage Capacity: 6.2 cu ft | Maximum Seating: 2 |
Performance

| | |
| --- | --- |
| Engine: V8 DOHC Supercharger | Displacement: 6.2 Liter |
| Horsepower: 680 HP | Max RPM: NA |
| Torque: 568 lb-ft | Transmission: 7-Speed AMG Speedshift |
Origins
The SLS 63 AMG was designed by Mercedes-Benz primarily as a road car that could also deliver power and performance on the racetrack. The company's trademark attention to luxury, quality and performance are clearly evident in this car.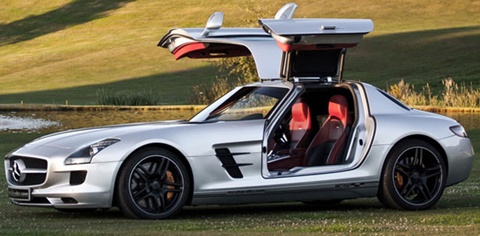 Performance Upgrade
The mcchip-dkr concept for Mercedes-Benz SLS 63 AMG was codenamed MC700, and the improvement to the car is purely a performance upgrade.
The SLS 63 AMG comes in both a roadster and swing door version. Both are powered by a 6.2-liter, V8 engine that can deliver up to 680 horsepower. This engine has been tuned to the maximum by Mercedes-Benz to extract every last ounce of power from it, so mcchip-dkr engineers had to come up with some other way of beefing up the drive unit.
The solution was to come up with two compressor kits that work as superchargers on the engine. They also used state of the art software to ensure the absolute maximum in performance. Finally, the company replaced the exhaust system, replacing the original catalyzer exhaust with a new system from Capristo, mcchips-dkr's partner on the MC700 project that uses valves. The results are truly impressive.
The first kit bumps the horsepower up to 680, a power increase of nearly 20%. The second kit, aimed at the export market, squeezes even more power from the engine. This uses a different software suite and ups the horsepower to 706.
Cost
Upgrading to the 2012 mcchip-dkr Mercedes-Benz SLS 63 AMG MC700 is pricey. Since they are manufactured in Germany, kit prices are quoted in Euros. The level 1 upgrade kit costs just under 70,000 Euros ($90,650), while the export kit will set you back nearly 79,000 Euros ($102,300.)