Looks, style and power. The 2012 Mansory Ferrari 458 Spider delivers it all.
The aerodynamic design and aggressive styling are completely appropriate for this high performance machine.
This limited edition of which only 3 were made, will cost more than chassis and a piston. This Mansory Monaco Edition of the Ferrari 458 Spider Convertible is certain to cause aficionados to gawk and stare.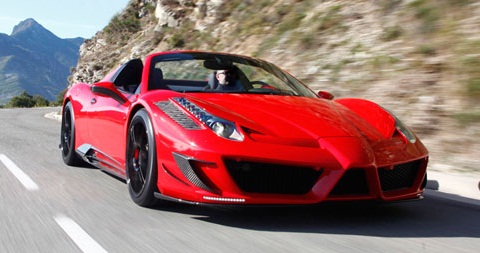 Specifications
General Info

| | |
| --- | --- |
| Vehicle Type: Super Sport Coupe | Est. Market Price: NA |
| Fuel Tank Capacity: 22.7 gallons (86l) | MPG: NA |
Dimensions

| | |
| --- | --- |
| Length: 178.2 in. (452.6 cm) | Wheelbase: 104.3 in. (264.9 cm) |
| Height: 47.7 in. (121.1 cm) | Width: 76.3 in. (193.8 cm) |
| Curb Weight: NA | Ground Clearance: NA |
| Luggage Capacity: 8.1 cu ft | Maximum Seating: 2 |
Performance

| | |
| --- | --- |
| Engine: V8 DOHC | Displacement: 4.5 Liter |
| Horsepower: 590 HP | HP per Liter: 131 HP |
| Torque: 413 lb-ft | Transmission: 7-Speed Dual |
| 0-60 mph: 3.2 seconds | Top Speed: 205 mph (330 km/h) |
Engine & Performance
The V8 4.5 liter engine produces 590 hp and 413 lbs-ft of torque. Get behind the wheel of this machine and learn what it feels like to go from 0 to 60 mph in 3.2 seconds, in which you get a top speed of 205 mph. This car not only looks fast, it is fast. The Mansory Ferrari 458 Spider has the power to back up its overt high intensity appearance.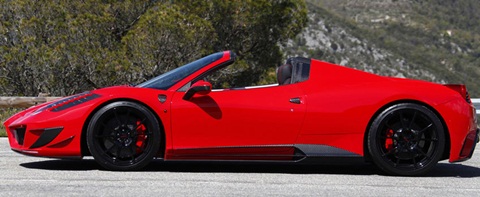 Exterior
The Mansory tune of this car is phenomenal. Featuring an Enzo style F-1 nose, the body is made out of carbon filler and reduces the overall weight by 162 lbs. The front feature air inlets for the coolers and the rear has an integrated diffuser as well as a rear wing. Top it off with carbon blades in place of a rear window and you have one good looking car.
Interior
The high quality leather and Alcantara buck skin has a hand stitched diamond pattern upholstery and the clean, sharp looking aluminum pedals are a plus. Alcantara leather and carbon fiber are present throughout the interior.
Safety
With a lower center of gravity, the Mansory Ferrari 458 Spider has sports shock absorbers that gives you a moderate edge on safety as do the wide based 40 inch rims with Michelin tires.
Overall, I love the aggressive exterior styling and the tweaks made that provide more power and optimal performance.
As far as safety features go, this vehicle is not built to provide the standard safety features you would look for in a family car. This is an edgy speed machine that will bring out the excitement that will propel anyone who sits behind the wheel with excitement.