A Chevrolet Camaro received a new visual and performance upgrade from the German tuning company Magnat.
Using a 2009 model, what we get is the 2012 Magnat Chevrolet Camaro.
Best known for their sound technology, the company invested in the visuals and sound of the car to offer its current upgrade.

Specifications
General Info

| | |
| --- | --- |
| Vehicle Type: Sport Coupe | Est. Market Price: NA |
| Fuel Tank Capacity: 19 gals (72 L) | MPG: NA |
Dimensions*

| | |
| --- | --- |
| Length: 190.4 in. (483.6 cm) | Wheelbase: 112.3 in. (285.2 cm) |
| Height: 54.2 in. (137.7 cm) | Width: 75.5 in. (191.7 cm) |
| Curb Weight: 3780 lbs (1715 kg) | Ground Clearance: NA |
| Luggage Capacity: 11.3 cu ft | Maximum Seating: 2+2 |
Performance

| | |
| --- | --- |
| Engine: V8 DOHC | Displacement: 6.2 Liter |
| Horsepower: 451 HP | Torque: 440 lb-ft |
| Transmission: 6-Speed Automatic | Top Speed: 170 mph (274 km/h) |
* Base 2010 Camaro Coupe specs
Engine
The performance of the car has been improved with software customization. Air induction has been altered allowing the 6.2 V8 engine to generate 451 horsepower to go with a maximum torque of 441 lb ft.
The top speed after upgrade has been recorded at 170 mph.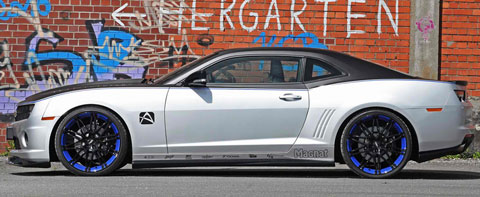 Performance
Magnat took out the stock suspension and used a height adjustable KW coil over version. This upgrade gives the Camaro a sport like behavior on the road making it more stable during tight cornering and better response to road conditions while maintaining a decent road grip.
Exterior
The visuals of the car received discreet touches such as the sports rims painted in blue with black spokes along with tire upgrades.
Its standard metallic grey has remained untouched, but the hood, roof, and rear have been painted in black with the name of the tuning company in front.
Interior
The interior of the 2009 model has been reworked and several upgrades have been added, such as an iPod docking module integrated in the panel right beneath the gearbox handle.
This rendition by Magnat has a black interior with grey elements on the dashboard and seats. Speakers have been added to the front and rear doors.
The tuning company did not focus on the visuals of the car as much as they did on the interior and engine. From the outside, the model seems to have received only a paint job, while on the inside, Magnat's touch is evident.
The 2012 Magnat Chevrolet Camaro manages be a great example of the latest in improved performance with the addition of technology.