The 2012 Lincoln MKZ Concept is an all-new product by Lincoln, and an important step forward in the company's efforts to reinvent itself.
The MKZ Concept made its debut at the 2012 North American International Auto Show in Detroit, and was a head-turner for attendees. The new automobile was presented by the Lincoln representatives as not simply a new Lincoln, but as a new brand.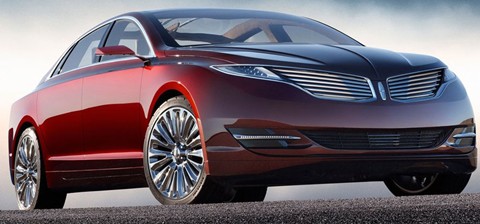 Exterior
On the outside, the Lincoln MKZ Concept has been designed to give car buyers a look at the future of all Lincoln vehicles – it is truly a company concept, and a blueprint for future product lines. The guiding idea behind the design is what the company calls "elegant simplicity," setting it apart from the complexities of luxurious templates followed by car makers in the past. Starting with the deep maroon finish, the simply elegant concept follows through to other features.
The distinctive grill is a refinement of the classic split-wing grill which first made an appearance in 1938 on the Lincoln Zephyr. A roofline that sets the Lincoln MKZ Concept apart from the typical shape of the sedan is the sleek and sloping, and the long line of the design gives the car an aerodynamic elegance which is also simple in its effect.
Perhaps the most unique design feature of the vehicle is the glass roof, which extends from the windshield all the way to the top of the backlight. The airy, open feeling this gives to the interior is delightful, and the concept is indeed simply elegant.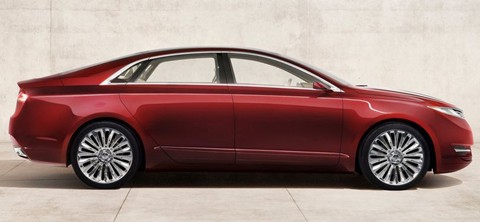 Interior
On the inside the Lincoln continues making good on the claim of being elegantly simple. The instrument panel has been designed to continue the look of the split grill – carrying this graphical feature through is a way to connect the interior and exterior for a balanced, complete design approach.
Other interior features include a push-button selection panel for transmission gear selection, a center console with a tiered and open construction, and gorgeous liquid crystal instruments. Wood, aluminum, satin and leather are all used in the 4 seat interior to add to the effect, and an LCD touch screen in the center of the instrument panel complements and completes the elegantly simple interior.
Performance
The 2012 Lincoln MKZ Concept will be available with multiple options in the powertrain department including front-wheel-drive and all-wheel-drive configurations. The Concept appears to be very successful at its stated purpose of beginning the reinvention of the Lincoln company. If simple elegance can be kept as the guiding principle for the design of future Lincolns, we're in for a treat.