The Mercedes-Benz SLS AMG has become a legend in just a few years after it was released.
It has been updated by Inden Design, introducing the 2012 Inden Design Mercedes-Benz SLS AMG.
This car is more than just a combination of well-known names because it brings the best updates that a car would ever have.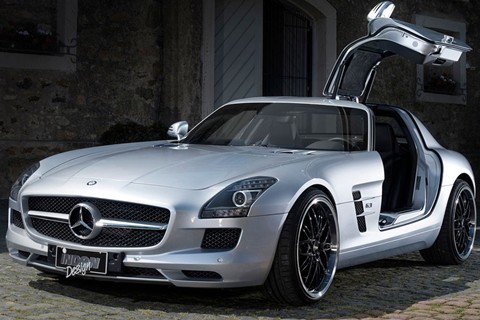 Specifications
General Info

| | |
| --- | --- |
| Vehicle Type: Super Sport Coupe | Est. Market Price: NA |
| Fuel Tank Capacity: 22.5 gallons (85L) | MPG: NA |
Dimensions

| | |
| --- | --- |
| Length: 182.6 in. (463.8 cm) | Wheelbase: 105.5 in. (267.9 cm) |
| Height: 49.7 in. (126.2 cm) | Width: 76.3 in. (193.8 cm) |
| Luggage Capacity: 6.2 cu ft | Maximum Seating: 2 |
Performance

| | |
| --- | --- |
| Engine: V8 DOHC | Displacement: 6.2 liters |
| Horsepower: 623 HP | Max RPM: NA |
| Torque: NA | Transmission: 7-Speed Speedshift |
| 0-60 mph: 3.7 secs* | Top Speed: 197 mph (317 km/h)* |
*Base SLS AMG
Engine
The Inden Design SLS AMG has a 6.2 liter V8, Inden-updated engine that delivers 623 horsepower. That is quite a great improvement from the base 571 horsepower that you get from its stock engine. Inden design did it by optimizing the ECU of the high performance 8-cylinder powertrain.
Performance
Definitely, the performance of the Inden Design SLS AMG has greatly improved. The improvement is not because of the engine alone but also because of the new wheels, suspension tuning and the updated body.
Acceleration is stronger and smoother while the handling provides a nimbler and tighter feel. Whether you are on the highway or in the back alleys of a busy city, the Inden Design SLS AMG performs as you want it to.
Exterior
Inden Design has put 21″ light metal rims as well as the same curved fenders of a sports car. Inden Design also updated the coil over kit for the SLS AMG resulting to a lower clearance that provides better handling performance in tight curves.
Interior
The interior of the car has the same posh qualities of the stock SLS AMG, since Inden Design focused on the engine and other performance parts such as the suspension and the wheels. Nevertheless, you will get the same interior quality that the base SLS AMG provides.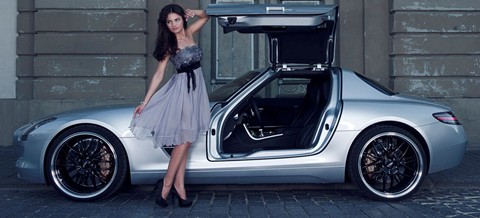 Pros
It is more stylish and faster than the stock SLS AMG. If you are looking for ways to update your supercar, experts such as Inden Design are willing to lend a hand. The Inden Design SLS AMG is more super than the base SLS AMG supercar.
Cons
The primary drawback to updated supercars is the price. To get your Mercedes Benz SLS AMG running with more than 600 horsepower, you must be willing to spend a considerable amount of cash.
In performance and in style, it is indeed hard to top the Inden Design Mercedes Benz. The 2012 Inden Design Mercedes-Benz SLS AMG is a true work of art worthy of your garage.