The 2012 Hyundai Equus greets the market with its updates, particularly the powerful engine and the spacious cabin that features a high-tech cockpit.
The first time we saw an Equus was in 2011 but Hyundai does not seem to be satisfied on sitting on its previous achievements; this is obvious in the new Equus.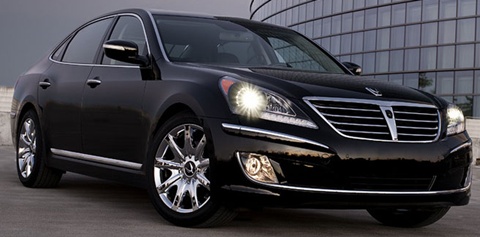 Specifications
General Info

| | |
| --- | --- |
| Vehicle Type: Luxury | Base Price: $59,000.00 |
| Fuel Tank Capacity: 20.3 gallons (77L) | MPG: 15 city / 23 hwy |
Dimensions

| | |
| --- | --- |
| Length: 203.1 in. (515.8 cm) | Wheel Base: 119.9 in. (304.5 cm) |
| Height: 58.7 in. (149 cm) | Width: 74.4 in. (188.9 cm) |
| Curb Weight: 4486 lbs (2034 kg) | Ground Clearance: NA |
| Luggage Capacity: 16.7 cu ft | Maximum Seating: 4 people |
Performance

| | |
| --- | --- |
| Engine: 5.0L V8 DOHC | Compression Ratio: 11.5: 1 |
| Horsepower: 429 HP | Max RPM: 6400 RPM |
| Torque: 376 lb-ft @ 5000 rpm | Transmission: 8-Speed Automatic |
| 0-60 mph: 6.0 seconds | 1/4 Mile: 14.4 seconds |
Available Trims & Engine

| | |
| --- | --- |
| Option:Ultimate | MSRP: $66,000; MPG: 15 city / 23 hwy |
Engine
The 2012 Hyundai Equus is equipped with a V8 5.0 liter engine that delivers 429 horsepower and 376 lbs/ft of torque. The mighty engine is paired with an 8-speed automatic transmission. There were only few lucky people who have had the opportunity to drive the new Equus and most of them loved its powerful and smooth demeanor.
It is important to note that the Equus is a rear-wheel drive car that enters the arena where all-wheel drive super-luxury cars compete.
Performance
According to the EPA, the new Equus has a fuel economy rating of 23 mpg for highway and 15 mpg for city driving. Although the car delivers more power, the fuel efficiency is slightly sacrificed. Another thing that is noticeable with the new Equus is the lack-luster steering characteristics as well as the brakes that feel too soft.
If this is the first time you are looking at a super-luxury car, it is not surprising for the car owner not to notice the differences between Hyundai and a BMW or a Mercedes. But those who are already familiar can certainly distinguish.
Nevertheless, the finely tuned suspension of the Equus is good enough to handle its tasks. The electronic stability control efficiently assists the driver to keep the Equus in place during aggressive turns. However, you might need longer stopping distances because the brakes are too mushy and do not seem to provide adequate stopping capability compared to its competitors.
Exterior
The new Hyundai Equus has a smart exterior design that generates a serious impression. We give Hyundai credit for keeping the Equus appear simply formal. After all, it does not need to look sporty because the car is not designed to be in the first place.
Interior
Without a doubt, we can say that the interior of the new Equus meet the expectation. It provides ample space, both for the passengers and cargo. It has ventilated seats and reclining rear seats. When it comes to comfort, the Equus definitely brings it.
However, the quality of the interior, upon closer inspection, is not as good as what its competitors use. Lexus, for example, uses high grade leather that is softer than any other super-luxury car use.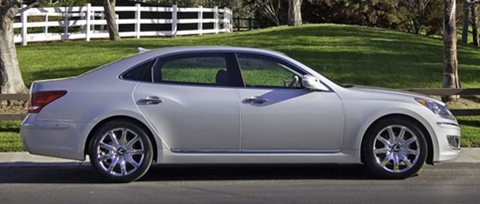 Safety
Another thing that we love about the Equus is it is a Top Safety Pick for the Insurance Institute for Highway Safety. It scored "Good" in all the tests done by the institution. Overall, the new Equus has nine air bags. It has anti lock brakes, lane departure warning, and adaptive cruise control. Moreover, the new Equus features a back up camera that supports the front and rear parking sensors.
Reliability
The Equus comes with the standard 5-year warranty, a 10-year warranty for the powertrain, and 24 hour assistance that lasts up to five years.
Pros
The new Equus is more affordable compared to other cars in its class. It has a comfortable and quiet cabin, with adequate power for a smooth and compelling drive.
Cons
The Equus does not have an all-wheel drive variant, has inferior quality for its interior, and poor braking distances.
The lower quality of the interior made way for the Equus to make it more affordable. Therefore we do not look at it as a major drawback. If you are looking for competitively priced luxury car, the 2012 Hyundai Equus is a great choice.
Competition
The Equus can be compared to the Lexus LS 460 (MSRP $67,630; 15 city / 24 hwy) and the Mercedes Benz S550 (MSRP $94,500; 15 city / 25 hwy).
Overall Rating


80 out of 100
What others say:
"Every square inch is filled with high-quality materials, but the Hyundai Equus doesn't quite have the back-seat space of its rivals."Car Connection
"The Equus has a comfortable ride, but motions can be a bit busy and handling is less than agile."MSN Auto-ConsumerReports
"If you feel you've reached a point in your life were you deserve to be pampered, but a shaky economy has your conservative side flinching at the thought of dropping six digits of dollars on a luxury sedan, the 2012 Hyundai Equus sedan may be your salvation."KBB
"Enormous list of standard features; presidential-size backseat; supremely quiet; serene ride; phenomenal sound system; low price for the segment."Edmunds