Most reviewers liked the 2012 GMC Sierra 1500 Hybrid well enough, but they thought it was too expensive, a familiar complaint when it comes to hybrid vehicles. Indeed, it cost twice as much as the gas-powered GMC Sierra 1500.
The Hybrid lacks a lot of features that are standard in other full sized pick-up trucks that are just as pricey. This truck is for people who are concerned with reducing their carbon footprint while having the advantages of a pick-up truck.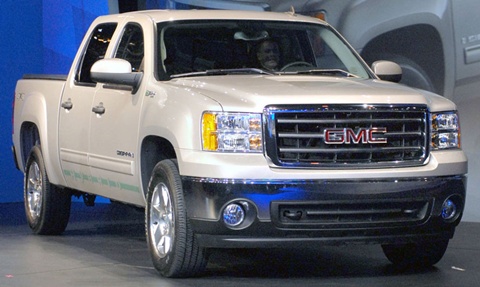 Specifications
General Info

| | |
| --- | --- |
| Vehicle Type: Hybrid Pick-Up-Crew Cab | Base Price: $40,010.00 |
| Fuel Tank Capacity: 26 gallons (98l) | MPG: 20 city / 23 hwy |
Dimensions

| | |
| --- | --- |
| Length: 229.9 in. (583.9 cm) | Wheel Base: 143.5 in. (364.4 cm) |
| Height: 73.7 in. (187.2 cm) | Width: 80 in. (203.2 cm) |
| Curb Weight: 5573 lbs (2527 kg) | Ground Clearance: 9 in. (22.8 cm) |
| Towing Capacity: 6,100 lbs (2767 kgs) | Maximum Seating: 6 people |
Performance

| | |
| --- | --- |
| Engine: Vortec V8 SFI VVT 2WD Hybrid | Displacement: 6.0 Liter |
| Horsepower: 332 HP | Max RPM: 5100 RPM |
| Torque: 367 lb-ft @ 4100 rpm | Transmission: 4-Speed Shiftable Automatic |
Available Trims & Engine

| | |
| --- | --- |
| Option:3HA 4WD | MSRP: $43,210; MPG: 20 city / 23 hwy |
| Option:3HB 2WD | MSRP: $46,790; MPG: 20 city / 23 hwy |
| Option:3HB 4WD | MSRP: $49,990; MPG: 20 city / 23 hwy |
Engine
The Sierra Hybrid has 3HA and 3HB trims and comes only in a crew cab. The Hybrid marries a 6.9 liter V8 engine with two electric motors that deliver 332 horsepower and 367 lbs-ft of torque altogether. The hybrid truck gets about 20 miles per hour in the city and 23 mpg on the highway, which is considerably more than the Sierra 1500.
Performance
Besides squishy brakes, reviewers thought the steering was responsive and the power delivery precise. The truck can tow 6,100 pounds, but some found this far inferior to the Sierra 1500, which can tow as much as 10,600 pounds. Some were impressed that a hybrid can haul as much as the Sierra Hybrid does. Most liked the smoothness of the ride.
Exterior
The Sierra 1500 Hybrid is almost indistinguishable from the Sierra 1500, but some reviewers found the hybrid badges unattractive.
Interior
The interior is roomy enough, even though there's not much in the way of storage for small items. The truck also lacks the bells and whistles you would expect in a vehicle this expensive. Some reviewers found the interior material lacking in substance, or at least not as luxurious as you would expect.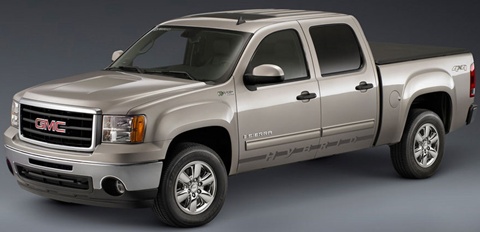 The base model has Bluetooth, a leather clad adjustable steering wheel, cruise and dual zone climate control. The 3HB will give the driver a rearview mirror that automatically dims, a defogger for the back window and Bose audio. Reviewers did appreciate that it was all easy to use.The Sierra Hybrid comes in crew cab in both of its trims, so it's ability to haul is lower than the gas-only model. The Sierra 1500 can have a longer cab and so is able to haul more stuff.
Safety
Overall, the safety scores from the Sierra 1500 Hybrid are good. One institution that tests for safety gave it marks from good to marginal, while another gave it four out of five stars over all, and five out of five stars for the side crash test.
Reliability
J.D. Power gave the Sierra Hybrid a four out of five score, which means it's better than most. It comes with the usual three year or 36,000 mile warranty. It also has a five year or 100,000 mile powertrain warranty.
Pros
The Sierra Hybrid has a smooth ride and lots of power, though the acceleration is tricky when the gas engine starts going. It's comfortable to sit in, gets admirable fuel economy for a truck, and is a nicely put together vehicle overall.
Cons
The truck's just too expensive given its so-so features and lack of towing capacity. The regenerative brakes are mushy.
Competition
The only hybrid truck that seems comparable is the Chevrolet Silverado 1500 Hybrid. The gas-only Ford F-150 and Toyota Tundra have better overall value.
Japanese carmaker Toyota breaks through again in this Pick Up truck segment through the Tundra (MSRP $40,535; 14 city / 18 hwy). The segment is normally dominated by American giants Ford F-150 (MSRP $37,805; 15 city / 21 hwy), the Ram 2500 Crew (MSRP $32,515), and of course the Silverado.
Overall Rating


70 out of 100
What others say:
"Being these are large pickups, there's noticeable body lean in fast turns and quick changes of direction. The steering is nicely weighted, if a bit numb, and the brakes are responsive with fine pedal feel."Consumer Guide
"City gas mileage is very good for a big truck; can accelerate to nearly 30 mph on electric power alone…Questionable value; only available in crew cab; limited options; quirky power delivery; slow acceleration; limited towing capacity."Edmunds