Ginetta was founded on the passion for motor racing. The company combines innovation, great value, and quality for both the sports enthusiast and the typical car owner. The team of Ginetta boasts of offering not just outstanding car performance but an overall driving experience to the user. The newest addition to Ginetta's line of sports cars is the G60.
The 2012 Ginetta G60 can go as fast as 165 miles per hour and has a 3.7 liter Ford 'Cyclone' engine producing 310 horsepower. Its bodywork is based on the F400, G60's predecessor. The sports vehicle is designed with carbon fiber cooling vents. This just shows that the G60 is one to look out for when it comes to the latest trends in sports vehicles.
Added Features
Aside from technical improvements and innovations, there are also other features that are must-haves for anyone who is a fan of motorsports. It has a satellite navigation system, climate control, and other functions housed in a centrally-mounted touch-screen. Moreover, it has a revised splitter as an improvement in the aspect of aerodynamics.
Rare
All these functions and qualities sound promising and greatly contribute to the overall performance of the vehicle. Only 50 will be built each year. This puts the G60 in a rare classification and a sense of exclusivity that intrigues most collectors.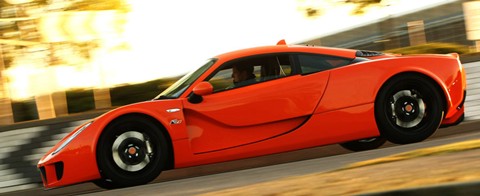 Ginetta, with the owners experience in the motorsport scene, aims to promote this model with the objective of giving the driver a feel of performance, quality, and innovation that any sports car model should have.
Specifications
General Info

| | |
| --- | --- |
| Vehicle Type: Coupe | Base Price: £68,000.00 |
Performance

| | |
| --- | --- |
| Engine: Ford V6 | Displacement: 3.7 Liter |
| Horsepower: 310 HP @ 6500 rpm | Torque: 288 lb-ft @ 4500 rpm |
| 0-60 mph: 4.9 seconds | Maximum Speed: 165 mph (265 km/h) |