When it comes to commercial vans, the 2012 Ford Transit Connect is among the top choices. It is easy to drive, it has high-tech features, and it has good looks. If you want to have more cargo space and more power, there are other options to consider.
But because the Transit Connect is made for a few exclusive purposes, we do not need to ask much. After all, Ford did a good job in putting a lot of thought into the Transit Connect.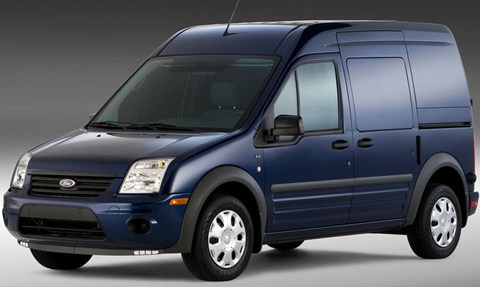 Specifications
General Info

| | |
| --- | --- |
| Vehicle Type: Van/Wagon | Base Price: $22,035.00 |
| Fuel Tank Capacity: 15.4 gallons (58.3 liters) | MPG: 21 city / 27 hwy |
Dimensions

| | |
| --- | --- |
| Length: 180.6 in. (458.7 cm) | Wheel Base: 114.6 in. (291 cm) |
| Height: 79.3 in. (201.4 cm) | Width: 52.1 in. (132.3 cm) |
| Curb Weight: 3360 lbs (1524 kg) | Ground Clearance: 7.9 in. (20 cm) |
| Cargo Capacity: 129.6 cu ft (no 2nd row seats) | Maximum Seating: 5 people |
Performance

| | |
| --- | --- |
| Engine: 2.0L Duratec I-4 DOHC | Compression Ratio: 10.0: 1 |
| Horsepower: 136 HP | Max RPM: 6300 RPM |
| Torque: 128 lb-ft @ 4750 rpm | Transmission: 4-Speed Automatic |
Available Trims & Engine

| | |
| --- | --- |
| Option:XLT Van | MSRP: $23,095; MPG: 21 city / 27 hwy |
| Option:XLT Wagon | MSRP: $23,660; MPG: 22 city / 27 hwy |
| Option:XLT Premium Wagon | MSRP: $23,810; MPG: 22 city / 27 hwy |
Engine
There is only one engine available on the Transit Connect, the 2.0 liter 4-cylinder engine that delivers 136 horsepower and 128 lbs/ft of torque. It only has one transmission available which is the 4-speed automatic.
From the small engine, we cannot expect much power but we can expect a fair rating when it comes to fuel economy. It has a fuel economy rating of 27/21 mpg highway/city, an average in its class. Its fuel efficiency is better than bigger vans.
Performance
The handling of the Transit Connect is impressive. In tight spots, the van drives well. Its low center of gravity helps reduce body roll. Being nimble enough, the Transit Connect is ideal for city use.
The Transit Connect can carry cargo up to 1,600 lbs which is okay if you do not have much to tow. Definitely, the Transit Connect is not right for you if you are looking for a van that can tow heavier loads.
Exterior
The Transit Connect's appearance gives the impression that it is a busy urban van. It has a tall profile that tells onlookers there is room for some more. A van with a car platform gives the idea that it can give the best of both worlds.
Interior
Durability prevails over luxury when it comes to the interior of the Transit Connect. It has hard plastics which makes the interior very utilitarian. To make the interior more functional, Ford added innovations that can help small enterprises.
Optionally, aspiring Transit Connect owners can have Ford Work Solutions that help the driver know if all the essential things are in the car. The in-car computer system allows for WiFi hotspots too. If you need to print receipts, you can even install a printer.
Although designed for work, the seating is comfortable. They are basic yet functional. The floor has a low load profile which allows the driver and the passenger to get in and out of the car easily. One drawback is the less than comfortable backseat, which does not make the Transit Connect ideal for big families.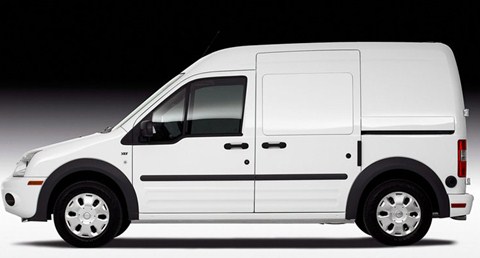 Safety
The Transit Connect has great front outward visibility, has anti-lock brakes, optional rear sensors, passive anti-theft system, and side and front airbags. The federal rating gives 2 out of five stars to the Transit connect for not scoring well in their crash tests.
Reliability
The 2012 Transit Connect has the standard 3-year limited warranty and a 5-year powertrain warranty.
Pros
The new Transit Connect's best attribute is its nimbleness – it is easy to drive and easy to maneuver when dealing with corners and parking. The electronics are business oriented and the cargo is versatile.
Cons
The Transit Connect scored low in crash tests and has a limited payload capacity.
The 2012 Ford Transit Connect is a good choice for business owners who want to have alternative to larger vans.
Competition
Other car makers that offer similar capabilities as the Transit Connect, the XLT wagon option can very well be compared to the Dodge Grand Caravan (MSRP $20,995; 17 city / 25 hwy). As a van, the TC could easily be matched against the Ram Cargo Van (MSRP $22,420; 17 city / 25 hwy).
Overall Rating


64 out of 100
What others say:
"It chalks up a few civilian sales a year, but the Ford Transit Connect van is primarily aimed at small businesses that put its very tall cargo area and somewhat rudimentary cabin to good use."Car Connection
"A low center of gravity and good steering feedback contribute to handling that can almost be described as nimble. Transit Connect admirably tackles the urban jungle. It's generally stable on the highway, though its tall build makes it susceptible to gusty crosswind wander."Consumer Guide
"Intended primarily for commercial use, this tall van is based on the Focus and was designed by Ford of Europe. It packs an impressive amount of room inside a small footprint."MSN Auto-ConsumerReports
"While the 2012 Ford Transit Connect might appeal to off-beat consumers looking for a unique ride, its first mission is to serve the business community. With its elevated roof, available 255-degree-opening rear doors and seemingly infinite equipment and graphics packages, the Transit Connect van is far superior to any small pickup or car-based crossover."KBB
"Easy to park and maneuver in tight spaces; above average fuel economy; large, versatile cargo area; clever business-oriented electronics features."Edmunds