Since the debut of the Cobra Jet in 2008, it has been one of the most successful, production-based racing vehicles in the world.
The 2012 Ford Mustang Cobra Jet Twin-Turbo Concept, is turbo-charged technology at its best and is taken from the production EcoBoost engines with the aim of enhancing performance.
This 2012 Concept comes with an improved suspension, revised interior, new design elements, and an upgraded engine.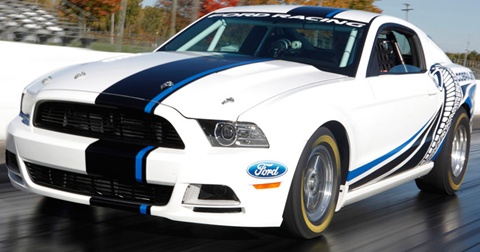 Engine
Under the hood is a twin-turbo engine, revised from the 5.0 L V8 engine of Ford. A 2.9L supercharger is linked, drawing up to 100 hp from the drive train to increase the power that can be used.
The engine is helped by a 3-speed C4 Auto Race gear-box, the combination enables the Jet to produce 430 horsepower. This power is put into use through the help of a drag race tire/titanium aluminized wheels combination. Light-weight low-drag brakes help slow and stop this Mustang.
Exterior
Initial details suggest that the car will be fitted with black anodized wheels as well as new optional finishes of Grabber Blue, Race Red and Winner White. However, the exterior will be offered in a standard Crisp white finish combined with black and blue strips that runs from the front bumper through the top of the car to the rear bumper.
A graphics package is available as an option and includes: 5.4 Cobra Jet hood graphics, Power-By-Ford fender emblems and Sweeping Snake side graphics among others. The automaker will also fit the 2012 model with an 8.50et NHRA certified roll cage for maximum safety of the occupants.



Other key features expected on the Twin-Turbo Concept include: Watson engineering stainless-steel-headers, anodized and forged pistons with Grafal-coated skirts, Livernois Motorsport valve springs and Manley H-beam connecting rods.
The new Twin-Turbo is still in its concept stages; it is yet to be tested and finalized before actual production takes place. However, with the little information we know, this 2012 Twin-Turbo Concept may have the competition quaking in their boots. It will face competition from rivals like Nissan's 370Z coupe, the Dodge Challenger and the Chevrolet Camaro Coupe.