As we all know, Ford has a colorful involvement in motorsports. Aiming to continue with this winning tradition, Ford is set to release the next step towards their goal to expand their worldwide racing portfolio. This is the 2012 Ford Focus ST-R, a car that appeared at the Los Angeles Auto Show.
Equipped to be race ready, the ST-R is a Ford Focus designed to target people that love motorsports, ranging from professionals to track day enthusiasts. It may look similar to the Focus ST road car, but it has a lot of modifications that make it more at home with the race track.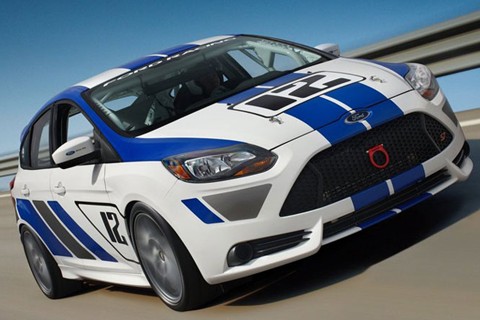 With a track tuned suspension and a roll cage approved by the FIA, this car is purpose built to dominate. In fact, it is so track ready that all that it takes to get it ready for racing is a communication device and racing decals.
Features
It has a bevy of features that promises to make this car competitive from the get go. With braking and handling that promise to be the best in its class, and a modified 2.0 liter EcoBoost engine that is expected to harness a lot of power, Ford promises to make this car the next big thing when it comes to factory built track weapons.

Eligible to compete in the prestigious touring car competitions worldwide, and perhaps soon in the 24 Hours of Nurburgring, the 2012 Ford Focus ST-R has all the tools to get Ford back on the motorsports map once more.