After Bugatti's success with the 16.4 Super Sports car, an open-top, soaped-up Grand Sport was inevitable.
Not long after the Super Sport launch, Bugatti started receiving inquiries about whether there would be a Grand Sport version and they were instantly drawn to the idea.
Alas, the 2012 Bugatti Veyron Grand Sport Vitesse in Black and Red.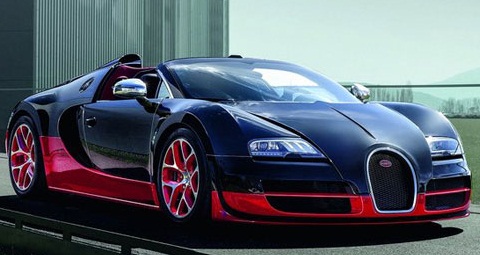 Specifications
General Info

| | |
| --- | --- |
| Vehicle Type: Super Sport Coupe | Est. Market Price: NA |
| Fuel Tank Capacity: 26.4 gallons (100 liters) | MPG: NA |
Dimensions

| | |
| --- | --- |
| Length: 175.6 in. (446.2 cm) | Wheelbase: 106.6 in. (271 cm) |
| Height: 47.4 in. (120.4 cm) | Width: 78.6 in. (199.8 cm) |
| Curb Weight: 4387 lbs (1990 kg) | Ground Clearance: NA |
Performance

| | |
| --- | --- |
| Engine: W16 Turbo | Displacement: 8.0 liter |
| Horsepower: 1200 HP | Max RPM: 6400 rpm |
| Torque: 927 lbs-ft | Transmission: 7-Speed DSG |
| 0-60 mph: 2.6 seconds | Top Speed: 255 mph (410 km/h) |
Performance
Wolfgang Durheimer, Bugatti's president said, "This will take the Grand Sport roadster to a completely new level, enhancing it so that it can deliver a previously unprecedented amount of hp. The Bugatti Veyron Grand Sport Vitesse is officially the fastest roadster, as it delivers 1,200 hp."
Between 3,000 and 5,000 rpm, the Vitesse boasts 1106 lbs ft of torque from the 7.9L W16 engine. Maximum output isn't reached until 6,400 rpm when the hp reaches 1,200.
This allows the Bugatti Veyron Grand Sport Black and Red car to get to 60 mph from 0 in a staggering 2.6 seconds. With a top speed of approximately 255mph, this Bugatti Veyron is the fastest roadster on the market by far.
Turbochargers
The 199 hp increase that has been achieved with the Grand Sport was mainly achieved via a modified drive train and the installation of larger turbochargers. Four turbochargers have been installed, each larger than the turbochargers in previous models, complete with new intercoolers.
All components of the drive train have been reinforced extensively to enable the safe transfer of the massive amount of energy the Vitesse is more than capable of creating.
Aerodynamics
A number of measures have been taken to decrease buffeting and wind noise while travelling at high speeds in the black and red Bugatti Veyron Vitesse.
The roof spoiler has been added as well as a new, compact windbreak that can be stowed easily inside the car when not being used. Both of these features are also available for Bugatti's Grand Sport.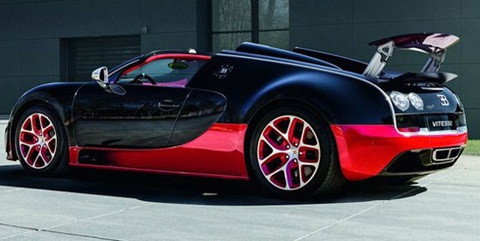 You may recognize some of the added aerodynamic features from the Super Sport's rear and front; many of the same components have been adapted for the Vitesse too.
On the front of the Bugatti Veyron Vitesse you'll find large air intakes and a new front spoiler while on the back, you'll see a twin tailpipe that's been centrally positioned and a characteristic double diffuser.