The 2012 Bugatti Veyron Grand Sport Vitesse is the world's fastest production roadster. The Bianco and New Light Blue limited edition version showcases a paint theme based on a historic car, the 1928 model Type 37A.
The Type 37A was originally designed to provide a Grand Prix experience for street car enthusiasts. The Bugatti Veyron Grand Sport Vitesse continues the legacy evoked by the vintage blue and white paint.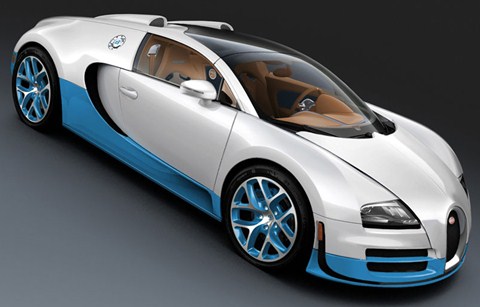 Specifications
General Info

| | |
| --- | --- |
| Vehicle Type: Coupe | Base Price: NA |
| Fuel Tank Capacity: 26.4 gallons (100l) | Miles Per Gallon: 6 city / 15 hwy |
Dimensions

| | |
| --- | --- |
| Length: 175.7 in. (446.2 cm) | Wheel Base: 106.7 in. (271 cm) |
| Height: 47.4 in. (120.4 cm) | Width: 78.6 in. (199.8 cm) |
| Curb Weight: 4387 lbs (1990 kg) | Maximum Seating: 2 people |
Performance

| | |
| --- | --- |
| Engine: W16 Quad Turbo | Displacement: 8.0 Liter |
| Horsepower: 1200 HP | Max RPM: 6400 RPM |
| Torque: 1106 lb-ft | Transmission: 7-Speed DSG |
| 0-60 mph: 2.6 seconds | Maximum Speed: 255 mph (410 km/h) |
Performance
The fastest street legal car in the world, it goes from 0-62 mph in 2.6 seconds. The W16 quad-turbo charged, 1,200 hp engine is electronically limited to 233 mph for regular street handling. In top speed mode, it can top 250 mph, which is accomplished by retracting the spoiler and lowering the car to a ground clearance of 2.6 inches.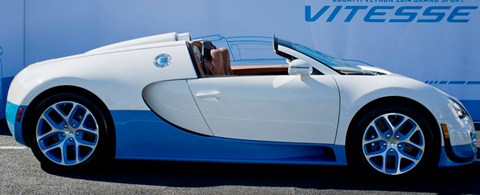 Shifting is accomplished with a seven gear, semi-automatic transmission. Carbon fiber brakes can bring the car from 250 mph to a standstill in 10 seconds. The car is manufactured in Molsheim, France and was designed by the Volkswagen group.
Exterior
The Veyron Grand Sport Vitesse is a bullet-shaped roadster with a Targa top. The sleek, aerodynamic styling of the body makes for a car that rides very low to the ground.
The Bianco white is a rich, pearly color perfectly complemented by the lower body's retro-inspired New Light Blue. The rims are also detailed in New Light Blue.
Interior
The interior of the Veyron Grand Sport Vitesse is upholstered in flawless tan leather. The two seat design is simple but elegant, designed for serious driving. Classic display panels keep the focus on performance instead of gadgetry and enhance the vintage sports car feel.
Named after Pierre Veyron, a Bugatti designer and driver who won the 1939 Le Mans 24 hour race, and "Vitesse" in reference to the speed of light, the extremely limited edition special edition Bugatti Veyron Grand Sport Vitesse is an instant collector's item for discerning drivers looking for a street legal race car driving experience.