The 2012 Bugatti Veyron Grand Sport by Bernar Venet is an interpretation of the car by the French artist who is world famous. His conceptual style is on exhibit worldwide. The collaboration is a natural progression, one artiste to another.
Bernar expressed his passion for the supercar by designing a special edition that included detailed artwork for the front and inside of the supercar.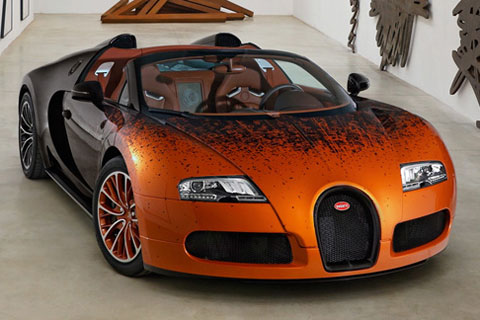 Specifications
General Info

| | |
| --- | --- |
| Vehicle Type: Super Sport Coupe | Est. Market Price: NA |
| Fuel Tank Capacity: 26.4 gals (100 l) | MPG: 6 city / 15 hwy |
Dimensions

| | |
| --- | --- |
| Length: 175.7 in. (446.2 cm) | Wheelbase: 106.6 in. (271 cm) |
| Height: 47.4 in. (120.4 cm) | Width: 78.6 in. (199.8 cm) |
| Curb Weight: 4387 lbs (1990 kg) | Maximum Seating: 2 |
Performance

| | |
| --- | --- |
| Engine: W16 Quad Turbo | Displacement: 8.0 Liter |
| Horsepower: 1200 HP | Max RPM: 6400 rpm |
| Torque: 1106 lb-ft | Transmission: 7-Gear DSG |
| 0-60 mph: 2.6 seconds | Top Speed: 255 mph (410 km/h) |
Bernar's Bugatti Veyron has an 8 liter W16 engine capable of generating 1200 HP with 1106 lbs ft of torque. The top speed has been limited to 255 MPH and it can go from 0 to 62 in just 2.6 seconds with the aid of the quad turbocharger system.
Performance
The Benet Veyron still has the same handling challenges. It can drive in a straight line no problem, but when it comes making the turns and sharp corners, the Bugatti tends to understeer. Due to its size and weight, the car does tents to stick to the road but steering at high speeds needs some improvement.
Exterior
Bernar Venet's work on the Veyron was limited to a splashy artwork. The front of the car is painted in orange, fading into black. The transition is made of mathematical equations used by the engineering team during the design stage.
Interior
The inside matches the overall chromatic pallet of the exterior. The dashboard is covered with dark brown leather while the seats are lighter in color. On the left and right front doors, Bernar added custom artwork inspired by the same equations used on the exterior.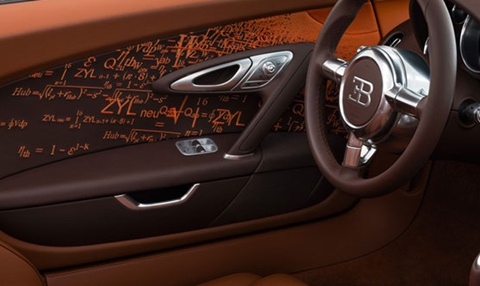 Despite the fact that the manufacturer only built one, the 2012 Bugatti Veyron Grand Sport by Bernar Venet comes with visually appealing characteristics. Designed by an enthusiast, Bernar used the engineer's equations to make the artwork. Besides the inside and outside do have visual elements that make it a conversation starter, no other changes have been on this model in terms of its overall specifications.