For the driver who is absolutely not willing to compromise, the Bugatti Veyron has retained its place at the top for several years.
However, the 2012 Bugatti Veyron 16.4 Grand Sport Vitesse takes it a step further, and must surely be classed as one of the most desirable sports cars ever produced.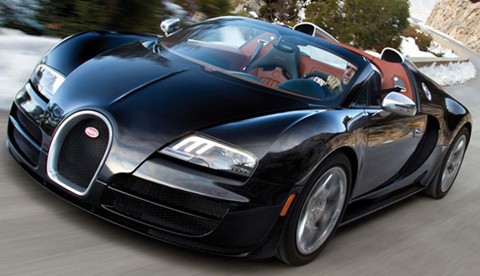 Performance
A Bugatti would not be a Bugatti if it was anything but supremely fast, and the Vitesse boasts some truly astounding performance.
The ferocious 7.9-liter, W16 engine puts out no less than 1200 horsepower at 6,400 rpm, and not a great deal less than this at other engine speeds. From a standing start, this Veyron can hit 62 mph in a staggering 2.6 seconds, while for those with access to a race track, top speed is 255 mph. That makes this the speediest production roadster ever offered for sale.
Chassis
Unsurprisingly, a car this fast absolutely needs to be built with uncompromising quality, and the Vitesse makes use of a number of features more often seen on race cars.
Its shock absorbers respond so fast that they will always keep the Bugatti absolutely poised and balanced, while the combination of the car's highly advanced four-wheel drive technology and ultra-light, 20-inch wheels mean that the driver will always have absolute confidence in the Veyron's position on the road.


Interior
Inside the Vitesse, the driver will discover a luxurious cabin with an extensive use of carbon fiber and magnesium. This helps to keep the car's weight down, but also provides a unique feel to the interior that plays up Bugatti's strong sporting background.
Despite this, however, comfort and style have not been compromised – a massive range of customization options is available for every one of the 350 lucky purchasers of this highly exclusive automobile. The 2012 Bugatti Veyron 16.4 Grand Sport Vitesse may cost well over a million dollars, but it most definitely has the class to justify its price!
Specifications
General Info

| | |
| --- | --- |
| Vehicle Type: Super Sport Coupe | Est. Market Price: € 1,750,000.00 |
Performance

| | |
| --- | --- |
| Engine: W16 w/ Turbochargers | Displacement: 8.0 liters cc |
| Horsepower: 1200 HP | Max RPM: 6400 RPM |
| Torque: 1106 lb-ft @ 3000-5000 rpm | Transmission: 7-Speed Dual Clutch/em> |
| 0-60 mph: 2.6 seconds | Top Speed: 255 mph (410 km/h) |