Everybody knows that the most luxurious and exclusive car manufacturer in the world is Bugatti.
Every time they release a new version of their elegant sports cars, everyone is amazed of what artistry they put into these supercars.
For the first time, a brown finish in visible carbon fiber which allows the sports car to shimmer in a specific light has been polished in the 2012 Bugatti Veyron 16.4 Grand Sport Brown Carbon Fiber and Aluminum.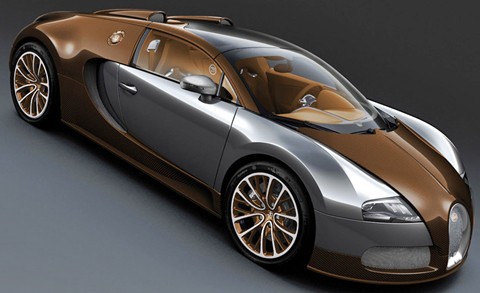 The artistic orientation of this classic was a challenge for the production team since they wanted to produce a bronze-like effect on its car case when certain light falls into it.
A contrast is created by using polished aluminum with a 'Gaucho' colored leather interior to make the roadster more appealing and exquisite.
Performance
This new Bugatti Veyron boasts of its utmost torque of 1106 lbs-ft at 3,000-5,000 rpm, which makes it an extraordinary sports car. The engine's capacity is a 7.9 liter, 1200 HP at 6,400 rpm. It goes from 0 to 60 in 2.6 seconds, which makes it the fastest sports car available. The normal speed is confined to 375 km/h (233 mph) while the surmount speed is up to 410 km/h (255 mph).
Exterior
The Grand Sport has a roof spoiler which essentially minimizes banging of the interior and wind noise. In addition, a new windbreak has been developed in order to allow compact storage in the compartment when empty.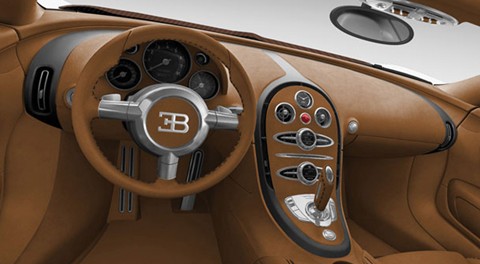 As a result of this innovation, it made the Bugatti Grand Sport exceptionally relaxed even when driving at faster speeds of about 200 km/h (124 mph).
The front is more distinguished with bigger air intakes which has a horizontal bar division that supports the artistic imagery of the car body. The headlights which are now black are made from Xenon and over the front and the rear view; an updated Park Distance Control system has been installed.
Specifications
General Info

| | |
| --- | --- |
| Vehicle Type: Super Sport Coupe | Est. Market Price: € 1,790,000.00 |
Performance

| | |
| --- | --- |
| Engine: W16 w/ Turbochargers | Displacement: 8.0 liters cc |
| Horsepower: 1200 HP | Max RPM: 6400 RPM |
| Torque: 1106 lb-ft @ 3000-5000 rpm | Transmission: 7-Speed Dual Clutch/em> |
| 0-60 mph: 2.6 seconds | Top Speed: 255 mph (410 km/h) |