With Italian and German influences collaborating, BMW has designed an aerodynamically optimized car, which is able to reach the high speeds of a sports car, yet is also comfortable for everyday driving.
The style of the Zagato reflects on what has worked previously, and adds mystique onto the trim lines, to the perfection of the exterior paint. While BMW has been quiet about the specifications, the Zagato Coupe has a familiar look, with a touch of Italian inspiration and technology.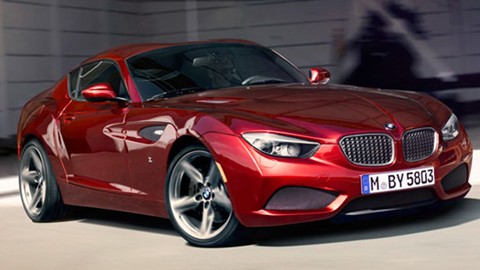 Exterior
The 2012 BMW Zagato Coupe is a hand-built, aluminum body, with an elongated hood. The air intakes are integrated with the hood, which sends extra air to the engine. The grill is highlighted with "Zs" in its mesh in an intricate, classy design, portraying the name.
The rear of the car is formed in almost a single joint. The rear displays an upper transparent panel, and the three-section look uses dark-colored glass surfaces to open up the interior, creating a wider-open look.
The rear bumper is fed into a large diffuser, ending with tail pipes in matte finish. This gives the Zagato an aggressive and sportier look. The body rests on 19 inch, 5-spoke, alloy wheels, with a propeller-type look, and matte finish.
Two domes are built into the roof structure, this is a signature Zagato design, and provide greater headroom. This design also increases the car's aerodynamics, and the roof's rigidity.
Interior
Zagato has highlighted the instrument panel and doors with horizontal lines, creating a roomier and sportier look. The form-fitting seats of grey material, have contrasting red stitching and accents.
The remarkable craftsmanship of the team is displayed, and the letter "Z" is embroidered in red at the top of the seat. The interior is definitely sporty, and the attention to detail is pure class.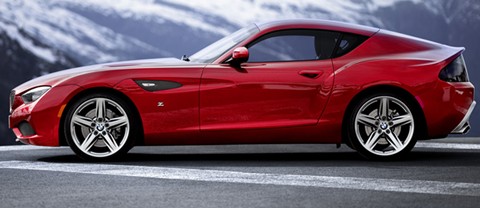 Zagato Paint Mystique
The exterior body begins with a coat of black paint. A second coat of metallic silver is then applied, followed by six extremely thin coats of red paint which was especially developed for the Zagato.
It is then sealed with two clear layers, for protection and resilience. The mystique is that this paint can reflect the light in such a way, as to appear from almost a black color, to a brilliant red color, depending on how the light hits the paint.
The broad and low appearance of the 2012 Zagato Coupe, allows for a very powerful and solid road stance.
It is built to go fast, yet meets all normal road requirements. For more information on the Zagato, watch for the upcoming BMW press releases on specifications, and pre-order availability dates.