Everyone seems to be going the green these days, and this trend is particularly popular with car manufacturers worldwide. Of course, it's more out of necessity than anything else, but every car enthusiast and fans of speed are looking at the future from a very bleak point of view.
With almost every automobile maker dropping cylinders from their engine configurations and either adding a turbo or large battery pack to increase efficiency, it appears to be slim pickings for performance car enthusiasts. However, look deeper and you find that there are quite a few excellent cars out there that can go ahead and do what not many expect them to do – go fast! Real fast!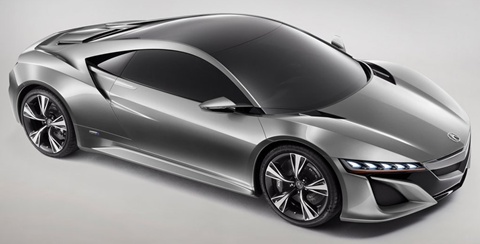 Next Gen
Prime among the next-generation sportscar is the 2012 Acura NSX. Now, the NSX name is legendary, with the original car offering dollops of performance and driving pleasure and yet, offering great efficiency and reliability too.
Now, Acura has unveiled what will be the new NSX. And with it, comes a lot of cutting-edge technology that will allow it to perform, if not better than its predecessor, while at the same time, being very conservative. Basically, it's a quick car that's more than friendly to our beloved but burdened planet.
Green Performance
The Acura NSX Concept displays flowing lines and gorgeous curves making it an unmistakable sportscar. But it gets even better under the skin. There are a pair of electric motors, and a brand new direct injection V6 gasoline engine with the much lauded VTEC technology, paired to a dual clutch transmission.
The electric motors driving the front wheels feature a bilateral torque adjustable control system, which when paired to the Sport Hybrid super-handling all-wheel-drive system, give it great cornering abilities, making either positive or negative torque generation to the front wheels possible.

Supercar Potential?
Apart from that, the use of racing technology makes this one very lightweight car, with a power to weight ratio that rivals some supercars. This allows the new NSX to accelerate like few others, while at the same time being highly efficient as well.
The new NSX will makes its debut in the next three years, and knowing Acura, we can expect a few more interesting highlights to make it to the production version. Quite a car to look forward to!