The 2011 Volkswagen Cross Coupe Concept was unveiled recently in Tokyo and suggests exactly what Volkswagen have in store for their future vehicles.
Visually, it appears to be a well-sculpted Coupe/SUV hybrid vehicle that successfully bridges the gap between compact SUVs and four-door Coupes.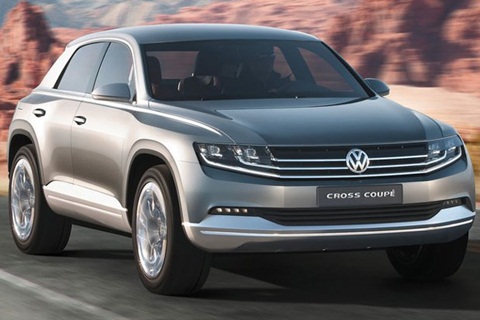 Unique
The original and innovative Volkswagen Cross Coupe Concept car offers drivers the best of two very different worlds. In this car, the design of an SUV and a Coupe have been successfully molded together to produce something that is significantly sportier than your average SUV but a lot more dynamic that your standard Coupe.
The car itself shares popular design features of both cars e.g. the dashboard is raised like in SUV vehicles but the design itself resembles something that you would find in a Coupe. The overhangs are strikingly short both at the front and the back of the vehicle giving the car a distinctly compact look.
Balance
The vehicle's centre of gravity is low, due to the layout of the drive system and the placement of the battery, so axle loading is balanced. Despite being equipped with many SUV qualities, it has the capability of handling just like a Coupe.
Engine
The Volkswagen Cross Coupe Concept car is fitted with a turbo petrol engine and two electric motors (one in the rear, one in the front) and it's worth noting that this car can travel up to 24 miles (40km) on electric power alone – thanks to the electric drive shaft and all wheel drive system that represents true innovation by Volkswagen!
This car handles off-road just like a true SUV, the front angle approach is less than 25 degrees plus the rear end also offers excellent ground clearance.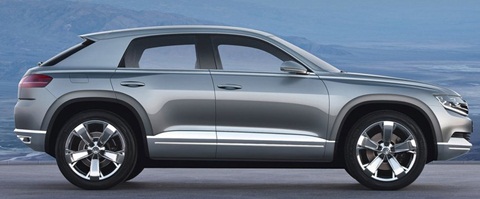 Interior
The inside of the Volkswagen Cross Coupe concept is just as aesthetically pleasing as the outside. This four seater car exudes comfort as there is plenty of room on all sides, durable synthetic coverings and the dashboard and other details retain the stylish elements of the Coupe and an SUV brilliantly meshed together!




Specifications
General Info

| | |
| --- | --- |
| Vehicle Type: Crossover Hybrid | Base Price: NA |
| Fuel Tank Capacity: 14.5 gallons (55 liters) | Miles Per Gallon: NA |
Dimensions

| | |
| --- | --- |
| Length: 171 in. (434.5 cm) | Wheel Base: 103.5 in. (263 cm) |
| Height: 59.9 in. (152.3 cm) | Width: 73.5 in. (186.8 cm) |
| Luggage Capacity: 43 cu ft | Maximum Seating: 4 people |
Performance

| | |
| --- | --- |
| Engine: Inline-4 Turbo Diesel | Displacement: 2.0 Liter |
| Horsepower: 147 HP | Torque: 155 lb-ft |
| Front Motor: 53 HP | Torque: 132 lb-ft |
| Rear Motor: 113 HP | Torque: 199 lb-ft |
| 0-60 mph: 7 seconds | Maximum Speed: 125 mph (201 km/h) |