The 2011 Startech Jaguar XJ made its world debut at the Geneva Motor Show. The show car featured a breathtaking black exterior perfectly contrasted by the cream all-leather interior specially made in soft, breathable leather. The four-door luxury sedan received some stunning aesthetic upgrades with the Startech front attachment mounted to the bumper.
The luxury sedan with a very sophisticated shape now exudes a sportier look. It also comes with a full range of fancy accessories, from high quality leather floor mats to sporty headlights.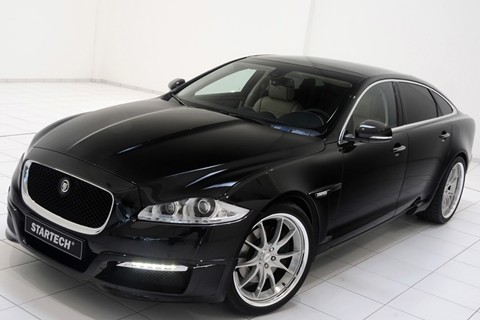 The XJ features an ultra-modern multimedia system that revolves on an Apple iPad. Jaguar XJ owners have the option to be online at all times or just sit back, relax and be entertained. Tables are electrically deployed and are snuggly attached to the back of the front seats with leather-clad monitors that are perfect for the Bluetooth Apple keyboard.
A GSM/WLAN modem with a concealed integrated antenna provides seamless internet access through HSDPA/UMTS technology or local WLAN network. This car truly brings all the functionalities of a virtual office and the easy and comfortable ambience home entertainment brings. Beauty, elegance, functionality and comfort, this sedan has it all. What else can you ask for in a luxury car? There is probably none.