Luxury and comfort are among the many qualities people look for in a car. The new addition to the Rolls Royce family, the 2011 Rolls Royce Phantom Bespoke Drophead Coupe is designed to emulate a dream weekend getaway for everyone – drivers and passengers alike experience the ultimate luxury and comfort in roof-down motoring.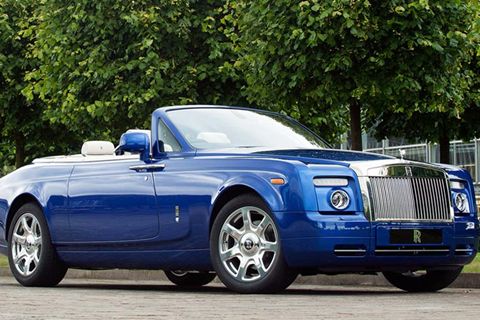 No other car can get as luxurious as this model with Asprey jewelry box hidden in the compartment for storing jewelry pieces you would want to take with you on your weekend adventure. This box is stored securely with stylish design to store all your jewelry essentials before you can even think of sitting back and relaxing in the sumptuous, soft leather seats.
Take the roof down and experience the country breeze caressing your hair, you can never feel as royalty as this. The natural-grain leather interior has a seashell design contrasted by navy blue flooring and door panels topped off with the signature RR logo on the headrests of the seats. If you put the roof down, the car then reveals its elegant yacht-like teak decking clad in mother of pearls inlay. No other car can match the elegance and luxurious beauty of this car. Truly, one can be royalty with the Rolls Royce Phantom Bespoke Drophead Coupe.