The 2011 Rolls-Royce 102EX Phantom Experimental Electric is the world's first-ever battery electric car made by the Rolls-Royce motors. Also known as the "Phantom EE (Experimental Electric)" car, the 102EX is considered as Rolls-Royce's vastly improved model since its launch last year.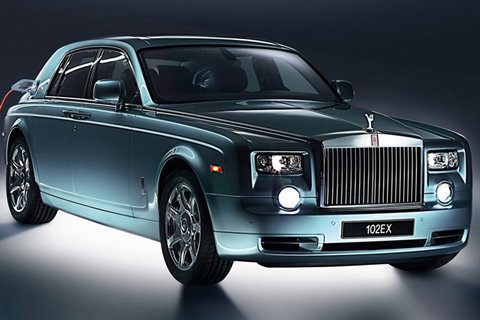 The Phantom EE has ground-breaking features such as "Aluminum Spaceframe" which is crucial in regulating the overall quiet ride of the car. Aside from the spaceframe, the Phantom EE also has distinct features such as a "6-Speed Gearbox" and "V12 Patrol Engine". The gearbox was recently replaced with two electric motors and lithium battery packs to tightly mount the car's rare side frames. The Phantom EE's battery packs are made from combined cobalt, nickel, and manganese. The battery holds an average density of 230Wh/kg which is crucial in regulating battery recharges.
According to Ian Cameron, Chief Designer for Rolls-Royce motors, the Phantom EE's overall concept and design complements well with the natural essence of the car in terms of light, space and other engine materials. Rolls-Royce Chairman and CEO Torsten Otvos spearheaded the official launching of the Phantom EE in Europe. The launching coincided with the "Global Driving Awareness" program in Asia, Middle East and North and South America.